Pyromellitic Acid
pyromellitic acid
[

'pī·rō·mə′lid·ik ′as·əd

]

(organic chemistry)

C6H2(COOH)4 A white powder with a melting point of 257-265°C; used as an intermediate for polyesters and polyamides. Abbreviated PMA.
Pyromellitic Acid
(1,2,4,5-benzenetetracarboxylic acid), colorless crystals. Melting point, 272°C. Moderately soluble in water, freely soluble in alcohol, and poorly soluble in ether.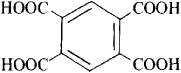 Pyromellitic acid readily converts into an anhydride upon heating; hydrolysis of the anhydride, which is formed during dry distillation of mellitic acid, is used to obtain pyromellitic acid. The acid and anhydride are used in the preparation of thermally stable polymers, or polypyromellitimides.