Pyrones
The following article is from The Great Soviet Encyclopedia (1979). It might be outdated or ideologically biased.
Pyrones
ketopyrans, heterocyclic compounds, oxo derivatives of pyrans. The simplest pyrones are α-pyrone, or coumalin, a colorless liquid with the odor of new-mown hay (boiling point, 206°-209°C), and γ-pyrone, colorless crystals (melting point, 31°–32°C).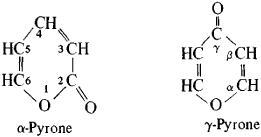 Pyrones are highly reactive. For example, they react with ammonia and primary amines and are reduced readily; α-pyrone enters into the Diels-Alder reaction. Pyrones may be produced by decarboxylation of their derivatives, pyronecarboxylic acids (coumalic and chelidonic acids, respectively). Pyrone derivatives are widespread in nature. Tonka beans contain benzo-α-pyrone, or coumarin; opium contains meconic acid; and celandine sap contains chelidonic acid. Certain plant pigments are γ-pyrone derivatives.
The Great Soviet Encyclopedia, 3rd Edition (1970-1979). © 2010 The Gale Group, Inc. All rights reserved.