quest
Also found in:
Dictionary
,
Thesaurus
,
Acronyms
,
Idioms
,
Wikipedia
.
quest
(in medieval romance) an expedition by a knight or company of knights to accomplish some prescribed task, such as finding the Holy Grail
Collins Discovery Encyclopedia, 1st edition © HarperCollins Publishers 2005
What does it mean when you dream about a quest?
A quest indicates an attempt to achieve some kind of goal. The dreamer may have reached a stage in life where the status quo is no longer acceptable and some adventure is beckoning.
The Dream Encyclopedia, Second Edition © 2009 Visible Ink Press®. All rights reserved.
QUEST
[

kwest

]

(electronics)

McGraw-Hill Dictionary of Scientific & Technical Terms, 6E, Copyright © 2003 by The McGraw-Hill Companies, Inc.
Quest
Ahab, Captain
pursues Moby Dick, the great white whale, even to the point of losing his own life. [Am. Lit.: Melville Moby Dick]
Argo
Jason's galley, on which the Argonauts sailed in search of the Golden Fleece. [Gk. Myth.: Benét, 47]
Dorothy
young girl, lost in dream world, follows the Yellow Brick Road to find the Wizard of Oz. [Am. Lit.: The Wonderful Wizard of Oz]
El Dorado
mythical land of gold treasures, object of Spanish expeditions. [Am. Hist.: Jameson, 159]
Golden Fleece
pelt of winged ram sought by Jason and Argonauts. [Rom. Legend: Zimmerman, 113]
grail
its pursuit is central theme of some Arthurian romances. [Br. Lit.: Le Morte d'Arthur]
Hippolyta,
girdle of secured after fight with Amazon queen; Hercules' ninth Labor. [Gk. and Rom. Myth.: Hall, 149]
Knights of the Round Table
set out to find the Holy Grail. [Br. Lit.: Le Morte d'Arthur]
Pequod
ship in which Captain Ahab pursued the great white whale. [Am. Lit.: Melville Moby Dick]
Ponce de León, Juan
(c. 1460–1521) Spanish explorer; sought the fountain of youth. [Span. Hist.: NCE, 2188]
Santiago
old fisherman in search of marlin. [Am. Lit.: The Old Man and the Sea]
Siege Perilous
a seat at King Arthur's Round Table for the knight destined to find the Holy Grail; it was fatal to any other occupant. [Br. Lit.: Morte d'Arthur; Benét, 929]
Sohrab
young warrior looks everywhere for the father he has never known. [Br. Poetry: Arnold "Sohrab and Rustum"]
Telemachus
relentlessly searches for father, Odysseus. [Gk. Lit.: Odyssey]
Allusions—Cultural, Literary, Biblical, and Historical: A Thematic Dictionary. Copyright 2008 The Gale Group, Inc. All rights reserved.
Quest
(1)

A language designed for its simple denotational semantics. "The Denotational Semantics of Programming Languages", R. Tennent, CACM 19(8):437-453 (Aug 1976).
Quest
(2)

QUantifiers and SubTypes. Language with a sophisticated type system. Just as types classify values, "kinds" classify types and type operators. Explicit universal and existential quantification over types, type operators, and subtypes. Subtyping is defined inductively on all type constructions, including higher-order functions and abstract types. User-definable higher-order type operators.

"Typeful Programming", Luca Cardelli <luca@src.dec.com>, RR 45, DEC SRC 1989.

Implemented in Modula-3.

ftp://gatekeeper.dec.com/pub/DEC/Quest/quest12A.tar.Z.
Quest
(tool, text)

This article is provided by FOLDOC - Free Online Dictionary of Computing (foldoc.org)
Quest disk
A 4.7GB removable hard disk from SyQuest that was geared for DVD mastering and general storage. Using magnetoresistive (MR) heads, it was the fastest, highest-capacity, removable disk on the market when introduced in 1998. However, before it could gain any momentum, SyQuest went into Chapter 11. See SyQuest and magnetic disk.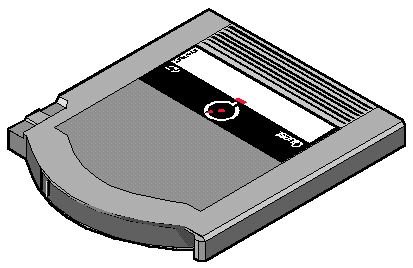 Quest Cartridge
For a brief moment in time, the Quest disk was the fastest, highest-capacity removable disk on the market. With Iomega's acquisition of SyQuest's assets, the Quest disk may yet survive.
---
Qwest
(Qwest Communications International Inc., Denver, CO, www.centurylink.com) Now part of CenturyLink, Qwest is a telecommunications company that offers services to carriers, businesses and homes using an extensive fiber-optic network throughout the U.S. and Mexico. Qwest began in 1988 as the SP Construction subsidiary of Southern Pacific Railroad, laying fiber optic cables for carriers along railroad right-of-ways. In 1991, it became SP Telecom, a subsidiary of Anschutz Corporation (Philip Anschutz owned Southern Pacific).

In the mid-1990s, SP Telecom acquired Qwest Transmission, Inc., a digital microwave carrier and subsequently changed its name. It also began leasing fiber to carriers. In 1998, it introduced retail long distance service in selected cities at 7.5 cents per minute, a breakthrough price at that time.

In 2000, Qwest took a giant leap forward in size by acquiring Denver-based U S WEST, one of the original regional Bell operating companies that served 14 states throughout the western U.S. Qwest claimed its network bandwidth was greater than AT&T, WorldCom and Sprint combined. In 2011, Qwest was acquired by CenturyLink. See Nacchio's law.

Copyright © 1981-2019 by The Computer Language Company Inc. All Rights reserved. THIS DEFINITION IS FOR PERSONAL USE ONLY. All other reproduction is strictly prohibited without permission from the publisher.