Quantile
(redirected from Quantiles)
Also found in:
Dictionary
,
Medical
.
quantile
[

′kwän'tīl

]

(statistics)

A value which divides a set of data into equal proportions; examples are quartile and decile.

McGraw-Hill Dictionary of Scientific & Technical Terms, 6E, Copyright © 2003 by The McGraw-Hill Companies, Inc.
The following article is from The Great Soviet Encyclopedia (1979). It might be outdated or ideologically biased.
Quantile
one of the numerical characteristics of random quantities used in mathematical statistics. If a distribution function of a random quantity X is continuous, then the quantile Kp of order p is defined as that number for which the probability of the inequality X < K<p is equal to p. From the definition of quantile it follows that the probability of the inequality Kp < X < K′'p is equal to p′ − p. The quantile K½ is the median of the random quantity X. The quantiles K¼ and K¾ are called quartiles, and K0.1, K0.2, … E0.9 are called deciles. Knowledge of the quantiles for suitably selected values of p makes it possible to visualize the distribution function.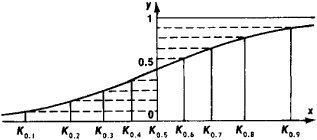 For example, for the normal distribution (see Figure 1)

the graph of the function Φ (x) may be plotted by means of the deciles K0.1 = −1.28, K0.2 = −0.84, K0.3 = –0.52, K0.4 = –0.25 K0.5 = 0.25, K0.7= 0.52, K0.8 = 0.52, K0.8 = 0.84, and K0.9 =1.28. The quartiles of the normal distribution Φ(x) are K¼ = − 0.67 and K = 0.67.
The Great Soviet Encyclopedia, 3rd Edition (1970-1979). © 2010 The Gale Group, Inc. All rights reserved.