Rafter
(redirected from Rafters)
Also found in:
Dictionary
,
Thesaurus
.
rafter
[

′raf·tər

]

(building construction)

A roof-supporting member immediately beneath the roofing material.
Rafter
One of a series of inclined members that support the sheathing to which a roof covering is fixed.
hip rafter
A rafter located at the junction of the sloping sides of a hip roof.
jack rafter
Any rafter shorter than the full length of the sloping roof, such as one beginning or ending at a hip or valley.
valley rafter
In a roof framing system, the rafter in the line of the valley; connects the ridge to the wall plate along the meeting line of two inclined sides of a roof that are perpendicular to each other.
rafter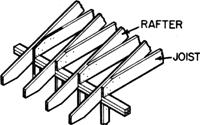 One of a series of inclined structural members from the ridge of the roof down to the eaves, providing support for the covering of a roof. For special types of rafters, see
beveled rafter, binding rafter, common rafter, compass rafter, compound rafter, fly rafter, hip rafter, jack rafter, knee rafter, notched rafter, principal rafter, valley rafter
.