Railroad Station
Also found in:
Dictionary
,
Thesaurus
,
Wikipedia
.
Railroad station
The structure where a train stops to load and unload passengers or freight; types range from a simple platform at grade to a large building with access to multiple raised covered platforms, which includes additional functions in the terminal itself.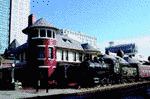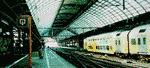 Illustrated Dictionary of Architecture Copyright © 2012, 2002, 1998 by The McGraw-Hill Companies, Inc. All rights reserved
The following article is from The Great Soviet Encyclopedia (1979). It might be outdated or ideologically biased.
Railroad Station
a basic operating enterprise in rail-road transportation, with a developed track system and facilities and installations for organizing the hauling of passengers and freight. Trains are received and dispatched; passengers are served and freight and baggage are loaded, un-loaded, and issued; and, where the track arrangement is more extensive, trains are assembled, separated, and sorted. At the beginning of the 1970's there were about 11,000 railroad stations in the USSR, including sidings and passing points.
Depending on the nature of work done, railroad stations are divided into intermediate, sector, sorting, freight, and passenger stations; in terms of volume and variety of work done, they are divided into unclassified stations (with a large volume of operations and high level of mechanization) and stations of the first to fifth classes. The installations and equipment of railroad stations include track and switches; terminals and service and technical buildings; passenger and freight railroad platforms; pedestrian overpasses; warehouses and loading-unloading areas; mechanical equipment and equipment for commercial operations, service to passengers, and baggage handling; the equipment of gravity yards; equipment for station signals, centralization, and block signaling; various types of communications; and electric lighting facilities. Railroad stations usually are built on a flat area and on a straight section of track. In special cases they can be built on grades not to exceed 0.0015. Railroad tracks at stations are subdivided into station tracks and special-purpose tracks. Railroad stations situated in areas where two or more railroad lines cross or join form a railroad junction (including the connecting lines of the junction).
Technological processes are being worked out for large stations to perform all jobs in the minimum of time on the basis of the scientific organization of labor and the application of advanced methods and the maximum utilization of technical facilities. Work at railroad stations is organized in accord with the Statute on Railroad Stations.
REFERENCES
Dobrosel'skii, K. M. Manevry na zheleznodorozhnykh stantsiiakh, 2nd ed. Moscow, 1961.
Tekhnologiia raboty uchastkovykh i sortirovochnykh stantsii. Moscow, 1966.
Savchenko, I. E., S. V. Zemblinov, and I. I. Strakovskii. Zheleznodorozhnye stantsii i uzly, 2nd ed. Moscow, 1967.
The Great Soviet Encyclopedia, 3rd Edition (1970-1979). © 2010 The Gale Group, Inc. All rights reserved.