ransom
Also found in:
Dictionary
,
Thesaurus
,
Legal
,
Idioms
,
Wikipedia
.
ransom,
price of redemption demanded by the captor of a person, vessel, or city. In ancient times cities frequently paid ransom to prevent their plundering by captors. The custom of ransoming was formerly sanctioned by law. Soldiers, given the right to kill or enslave their prisoners, frequently preferred to free them after receiving payment. This mitigated bloodshed, for it was more profitable to hold enemies for ransom than to massacre them. One of the rights of a feudal lord was to call upon his tenants to ransom him if he were captured in battle. The amount of ransom varied with the rank of the captive; a king or a noted warrior brought a great sum. For the payment of the ransom of Richard IRichard I,
Richard Cœur de Lion
, or Richard Lion-Heart,
1157–99, king of England (1189–99); third son of Henry II and Eleanor of Aquitaine.
.....

Click the link for more information.

(Richard Cœur de Lion) a special tax was levied in England; the French sovereign paid heavy ransoms for Bertrand Du GuesclinDu Guesclin, Bertrand
, c.1320–80, constable of France (1370–80), greatest French soldier of his time. A Breton, he initially served Charles of Blois in the War of the Breton Succession.
.....

Click the link for more information.

; and Scotland was impoverished in paying for James IJames I,
1394–1437, king of Scotland (1406–37), son and successor of Robert III. King Robert feared for the safety of James because the king's brother, Robert Stuart, 1st duke of Albany, who was virtual ruler of the realm, stood next in line of succession after the
.....

Click the link for more information.

. Merchant vessels captured in privateeringprivateering,
former usage of war permitting privately owned and operated war vessels (privateers) under commission of a belligerent government to capture enemy shipping.
.....

Click the link for more information.

were sometimes ransomed by their owners. After receiving the ransom, the privateer sometimes furnished a ransom bill, which allowed safe conduct for the ship to one of her native ports. Today the term generally refers to the sum paid to a kidnapper for the release of an individual or to an airplane hijacker for the release of passengers, crew, and plane.

The Columbia Electronic Encyclopedia™ Copyright © 2013, Columbia University Press. Licensed from Columbia University Press. All rights reserved.

www.cc.columbia.edu/cu/cup/
Ransom
John Crowe. 1888--1974, US poet and critic
Collins Discovery Encyclopedia, 1st edition © HarperCollins Publishers 2005
ransom note typography
Using too many fonts in a document. The term comes from the text in a ransom note that is pasted together from words cut out of different magazines and newspapers.

The ease with which fonts can be selected in an application has enabled the use of too many fonts in a document or newsletter. Seasoned graphics artists use only two or three fonts for a professional appearance. See ransomware.



---
ransomware
Virus software that blackmails users by locking them out of their computer or encrypting their computer's files in some manner. Also known as a "cryptovirus" or "cryptotrojan," a typical ransomware approach that takes only a few seconds to accomplish is to encrypt the indexes in the file system. This disables access to all the data and programs in the computer because the file system is the doorway to everything in storage (see file system). The ransomware then demands payment in Bitcoin to restore the data.

A favorite ploy is an FBI message claiming the user has child pornography on the computer, and a fine must be paid or else risk arrest. After paying the blackmail on any of these ransomware attacks, the user's machine may or may not be restored.

CryptoLocker - An Insipiration
In 2013, the creators of CryptoLocker collected millions in ransom by infecting Windows PCs until its distribution was halted a year later by the FBI and Interpol. CryptoLocker was the inspiration for other ransomware variants (gotta love that entrepreneurial spirit!). See Petya and WannaCry.

Mobile Phones Too
In 2014, using the same FBI scare tactic, thousands of Android users found their phones locked with demands for payment. See scareware and wares.

Even Cities
In 2019, two Florida cities paid their attackers more than $1 million to remove ransomware. Cybercrooks are increasingly asking for hundreds of thousands of dollars when they have breached a large organization or government entity. If there is any bright side to this, more organizations both public and private, are developing or improving their backup and recovery programs. See disaster recovery and cybercrime.

Ransomware Protection
As a result of this delightful phenomenon, numerous firms such as Trend Micro, Symantic, Malwarebytes and Avast Software have added ransomware protection in their lines of security products.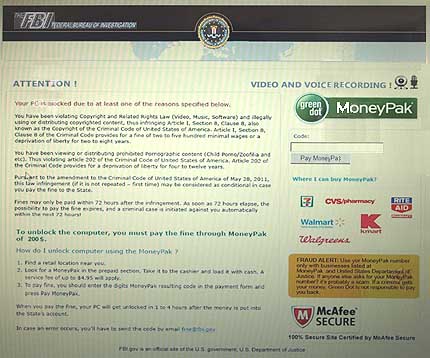 FBI MoneyPak Ransomware
Imagine finding your computer frozen with an FBI alert saying you violated any one or more of video, music or software copyrights or you distributed child pornography. It demands that you put USD $200 cash into a MoneyPak card and enter the card number within 72 hours to unlock your computer and prevent the initiation of a criminal case.
Copyright © 1981-2019 by The Computer Language Company Inc. All Rights reserved. THIS DEFINITION IS FOR PERSONAL USE ONLY. All other reproduction is strictly prohibited without permission from the publisher.