Ratchet Mechanism
The following article is from The Great Soviet Encyclopedia (1979). It might be outdated or ideologically biased.
Ratchet Mechanism
a toothed mechanism for the conversion of reciprocating rotary motion into intermittent rotary motion in one direction.
As shown in Figure 1, a ratchet mechanism consists of a ratchet wheel (1), a driving pawl (2), an arm (3), a locking pawl (4), and a support (0). The driving pawl engages the teeth of the ratchet wheel under the action of a spring or of its own weight. When the arm moves counterclockwise, the driving pawl turns the ratchet wheel through a certain angle. When the arm moves clockwise, the catch slips past one or more teeth, but the locking pawl prevents the clockwise rotation of the ratchet wheel.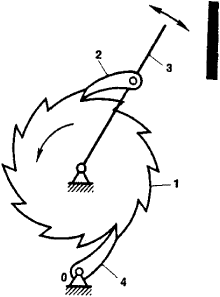 Ratchet mechanisms are used in, for example, bicycles and machine tools. In load-lifting machines, ratchet mechanisms prevent the drum of the winch from moving backward under the weight of the load.
The Great Soviet Encyclopedia, 3rd Edition (1970-1979). © 2010 The Gale Group, Inc. All rights reserved.