Recycler
Also found in:
Dictionary
,
Thesaurus
,
Wikipedia
.
The following article is from The Great Soviet Encyclopedia (1979). It might be outdated or ideologically biased.
Recycler
an electronic device that contains a delayed feedback circuit, through which a signal, usually pulsed, passes (from the output of the recirculator to its input) with a certain time delay. The presence of such a feedback circuit permits a multiple transit, or circulation, of the input signal to occur in the device. The duration of the signal is usually small compared with the time delay T in the feedback circuit. The amplitude-frequency characteristic of such a recycler is similar to that of a comb filter and exhibits narrow passbands at frequencies spaced 1/T apart.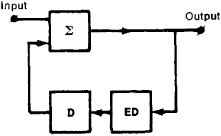 Figure 1 shows a simple recycler with a positive feedback circuit of the type used, for example, in the processing of pulsed signals in radar sets. Such a recycler is a linear system in which the loop gain is chosen as less than unity in order to prevent self-excitation. The recycler stores the weak signals, which follow one another at intervals equal to the time delay. This storage process permits the signals to be discriminated against a background of stronger noise. Usually, however, not more than a few tens of pulses are stored.
A more complicated recycler is used as a memory device in digital computers. In this recycler, the use of nonlinear elements in the positive feedback circuit permits a prolonged circulation of the pulses, which carry information in digital form. Recyclers with a pulse scaler (a digital memory device) in the feedback circuit are used in digital filters in digital signal-processing systems. Recyclers that have a nonlinear element and use a section of high-frequency cable as a delay element are employed as self-excited generators of pulses, which are usually of the order of a nanosecond in duration.
REFERENCES
Morugin, L. A. Impul'snye ustroistva s zapazdyvaiushchei obratnoi sviaz'iu. Moscow, 1961.
Finkel'shtein, M. I. Grebenchatye fil'try. Moscow, 1969.
Lezin, Iu. S. Optimal'nye fil'try i nakopiteli impul'snykh signalov, 2nd ed. Moscow, 1969.
The Great Soviet Encyclopedia, 3rd Edition (1970-1979). © 2010 The Gale Group, Inc. All rights reserved.