Reducer
Also found in:
Dictionary
,
Thesaurus
,
Medical
,
Idioms
,
Wikipedia
.
reducer
[

ri′dü·sər

]

(biology)

(chemistry)

(design engineering)

A fitting having a larger size at one end than at the other and threaded inside, unless specifically flanged or for some special joint.

(graphic arts)

A solution capable of dissolving silver; used to cut down the contrast or density of a negative or positive image.

McGraw-Hill Dictionary of Scientific & Technical Terms, 6E, Copyright © 2003 by The McGraw-Hill Companies, Inc.
The following article is from The Great Soviet Encyclopedia (1979). It might be outdated or ideologically biased.
Reducer
(1) A mechanism in machine drives serving to reduce the angular velocity of the driven shaft in order to increase the torque. Reducers are used in gear and chain drives and in drives involving worm gears. They also find use in various combinations, such as worm-and-gear drives and chain-and-gear drives. Combined drives exist in which reducers are combined with variable-speed drives. Reducers are used in transport, hoisting, and processing machinery.
(2) A device for lowering and maintaining a constant pressure of a working medium (gas, steam, or liquid) at the outlet of a high-pressure container. The reducer simultaneously serves as a safety and cutoff valve. Reducers are used in gas welders, in saturators, and in water chlorinators. They are also used in various apparatus for carrying out such secondary operations as mixing, preheating, and cooling.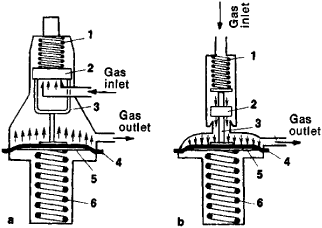 The basic element of a reducer (Figure 1) is the reducing valve, which is connected to a flat, flexible diaphragm. A spiral spring acts against one side of the diaphragm, and the pressure of the gas or liquid acts against the other. Forward reducers, in which the spiral spring acts in the same direction as the pressure (Figure 1,a), are distinguished from reverse reducers, in which the spring and pressure act in opposite directions (Figure 1,b). Depending on the working medium for which the reducer is designed, reducers are called oxygen, acetylene, or hydrogen reducers. Reducers are designed with either one or two chambers so as to effect, respectively, one-step or two-step reduction in pressure.
The Great Soviet Encyclopedia, 3rd Edition (1970-1979). © 2010 The Gale Group, Inc. All rights reserved.
reducer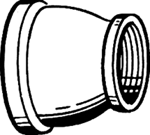 1. A thinner or solvent; used to lower the viscosity of a paint, varnish, or lacquer.
McGraw-Hill Dictionary of Architecture and Construction. Copyright © 2003 by McGraw-Hill Companies, Inc.