Reformatsky Reaction
Also found in:
Wikipedia
.
Reformatsky reaction
[

'rif·ər′mat·skē rē'ak·shən

]

(organic chemistry)

A condensation-type reaction between ketones and α-bromoaliphatic acids in the presence of zinc or magnesium, such as R2CO + BrCH2·COOR + Zn → (ZnO·HBr) + R2C(OH)CH2COOR.

McGraw-Hill Dictionary of Scientific & Technical Terms, 6E, Copyright © 2003 by The McGraw-Hill Companies, Inc.
The following article is from The Great Soviet Encyclopedia (1979). It might be outdated or ideologically biased.
Reformatsky Reaction
the synthesis of the esters of β-hydroxy carboxylic acids (II) through the interaction of aldehydes or ketones with the esters of α-halo carboxylic acids (I) in the presence of metallic zinc. The X in these reactions represents a halogen, and the R an organic radical: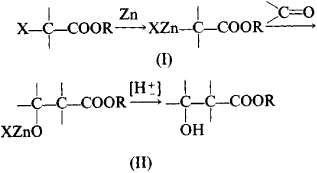 The reaction was discovered by S. N. Reformatskii (S. N. Reformatsky) in 1887 and is today used in organic chemistry for the preparation of certain substances.
The Great Soviet Encyclopedia, 3rd Edition (1970-1979). © 2010 The Gale Group, Inc. All rights reserved.