database
(redirected from Relation-valued attribute)
Also found in:
Dictionary
,
Thesaurus
,
Medical
,
Financial
.
database
Computing a systematized collection of data that can be accessed immediately and manipulated by a data-processing system for a specific purpose
database
An organized collection of related data that is stored in a computer system and is accessed by means of a set of programs known as a database management system. A database may provide data that is available to all users of a computer system and may be shared by a number of different applications. Examples include ESA's EXOSAT Database and NASA's Astrophysics Data System.
database
[

′dad·ə'bās

]

(computer science)

A nonredundant collection of interrelated data items that can be shared and used by several different subsystems.
database
(database)

One or more large structured sets of persistent data, usually associated with software to update and

query

the data. A simple database might be a single file containing many

records

, each of which contains the same set of

fields

where each field is a certain fixed width.

A database is one component of a

database management system

.

See also

ANSI/SPARC Architecture

,

atomic

,

blob

,

data definition language

,

deductive database

,

distributed database

,

fourth generation language

,

functional database

,

object-oriented database

,

relational database

.

Carol E. Brown's tutorial

.
database
(hypertext)

A collection of nodes managed and stored in one place and all accessible via the same

server

.

Links

outside this are "external", and those inside are "internal".

On the

World-Wide Web

this is called a

website

.
database
(3)
database
A set of related files that is created and managed by a database management system (DBMS). Today, most DBMSs can manage any form of data including text, images, sound and video. Database and file structures are always determined by the software. As far as the hardware is concerned, all data are simply "bits and bytes." See DBMS.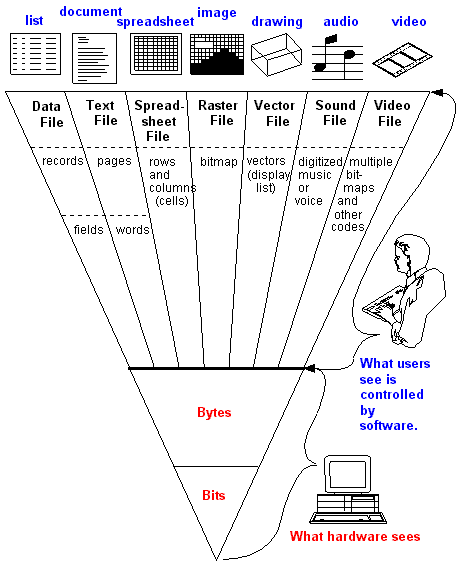 Data Are Bits and Bytes
To the hardware, data are nothing more than bits and bytes. The software determines the format of the data and how to handle it. To understand data and file structures, review the hierarchy and terms in this illustration.