Renaissance architecture
Also found in:
Dictionary
,
Wikipedia
.
Renaissance architecture
(1420–1550)

An architecture that developed during the rebirth of Classical art and learning in Europe and evolved through several periods. It was initially characterized by the use of the Classical orders, round arches, and symmetrical proportions. It represented a return to the models of Greco-Roman antiquity and was based on regular order, symmetry, and a central axis with grandiose plans and impressive facades. Silhouettes were clean and simple, with flat roofs replacing Gothic spires. Walls of large dressed masonry blocks gave buildings an imposing sense of dignity and strength. Gothic verticality was replaced with an emphasis on horizontality. Semicircular arches appeared over doors and windows and in freestanding arcades. Columns were used decoratively on facades and structurally in porticos, and ornamentation was based on pagan or Classical mythological subjects.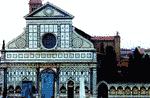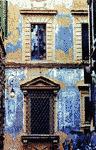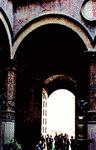 Illustrated Dictionary of Architecture Copyright © 2012, 2002, 1998 by The McGraw-Hill Companies, Inc. All rights reserved
Renaissance architecture, Renaissance Classical architecture
The architectural style developed in early 15th cent. Italy during the rebirth (rinascimento) of classical art and learning. It succeeded the Gothic as the style dominant in all of Europe after the mid-16th cent., and evolved through the Mannerist phase into Baroque and in the early 17th cent. into classicism. Initially characterized by the use of the classical orders, round arches, and symmetrical composition.
McGraw-Hill Dictionary of Architecture and Construction. Copyright © 2003 by McGraw-Hill Companies, Inc.