Richardson, Henry Hobson
Also found in:
Dictionary
,
Thesaurus
.
Richardson, Henry Hobson,
1838–86, American architect, b. St. James parish, La., grad. Harvard, 1859, studied at the École des Beaux-Arts; great-grandson of Joseph PriestleyPriestley, Joseph,
1733–1804, English theologian and scientist. He prepared for the Presbyterian ministry and served several churches in England as pastor but gradually rejected orthodox Calvinism and adopted Unitarian views.
.....

Click the link for more information.

. He was a major representative of romanticism in American architecture and was noted for his revival of Romanesque design. After employment in Paris, he began practice (1866) in New York City but moved to Brookline, Mass., in 1874. Trinity Church in Boston (1872–77) was his first monumental work; its French Romanesque design was a departure from the Gothic revival that controlled contemporaneous American architecture. In it and in subsequent works Richardson developed a free and strongly personal interpretation of Romanesque design. The style, known as Richardson Romanesque, spread and won many followers, exerting a great influence upon the building arts of the period, especially in the young, growing cities of Chicago, Cleveland, Cincinnati, and St. Louis. Richardson's buildings showed strength, simplicity, and a skillful employment of varied materials. In his country houses of wood he produced a distinct American type. He elevated the position of the minor crafts in his work, and to artists such as Augustus Saint-GaudensSaint-Gaudens, Augustus
, 1848–1907, American sculptor, b. Dublin, Ireland. His family immigrated to New York when he was an infant. An apprentice in cameo cutting at 13, he gained mastery over low-relief sculpture.
.....

Click the link for more information.

and John La FargeLa Farge, John
, 1835–1910, American artist and writer, b. New York City. He studied with William Morris Hunt in Newport, R.I., and with Thomas Couture in Paris. La Farge began his career as a painter of landscapes and figure compositions.
.....

Click the link for more information.

he entrusted the important units of decoration. Among Richardson's principal works are the New Brattle Square Church, Boston; public library, Woburn, Mass.; courthouse and jail, Pittsburgh; Sever Hall and Austin Hall, Harvard; parts of the state capitol at Albany, in association with Eidlety and Olmsted; Glessner House, Illinois Institute of Technology; and the Marshall Field wholesale store, Chicago.
Bibliography
See H. R. Hitchcock, The Architecture of H. H. Richardson and His Times (1936, rev. ed. 1961); J. K. Ochsner, H. H. Richardson: Complete Architectural Works (1982); J. F. O'Gorman, H. H. Richardson (1987) and Living Architecture (1997).
The Columbia Electronic Encyclopedia™ Copyright © 2013, Columbia University Press. Licensed from Columbia University Press. All rights reserved.
www.cc.columbia.edu/cu/cup/
Richardson, Henry Hobson
(1838–1886)

American architect and pupil of Labrouste in Paris, France. Richardson was renowned for his massive Romanesque buildings. He designed Trinity Church, Boston (1877), inspired by French and Spanish Romanesque styles.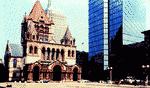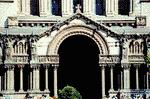 Illustrated Dictionary of Architecture Copyright © 2012, 2002, 1998 by The McGraw-Hill Companies, Inc. All rights reserved
The following article is from The Great Soviet Encyclopedia (1979). It might be outdated or ideologically biased.
Richardson, Henry Hobson
Born Sept. 29, 1838, in St. James, La.; died Apr. 27, 1886, in Brookline, near Boston, Mass. American architect.
Richardson was graduated from Harvard University in 1859 and from the Ecole des Beaux-Arts in Paris in 1865. He worked in New York from 1865 to 1874, at which time he moved his practice to Brookline.
The most influential American architect of the 1870's and 1880's, Richardson made masterful use of massive Romanesque forms to create emphatically solid compositions, which were at times imbued with romanticism. Works from this period include Trinity Church in Boston (1873–77) and the Allegheny County courthouse and jail in Pittsburgh (1884–88). Richardson's buildings, which served as a basis for a specifically American architectural tradition, have a precisely functional organization. The austere simplicity of the facades of the Marshall Field wholesale store in Chicago (1885–87, no longer standing) anticipated the Chicago rationalist buildings of the 1880's and 1890's. Richardson's wooden houses (for example, the Bryant House in Cohasset, Mass., 1880) were the prototypes of compact and comfortable shingle-faced dwellings.
REFERENCE
Hitchcock, H. R. The Architecture of H. H. Richardson and His Times, new ed. Cambridge, Mass., 1966.
The Great Soviet Encyclopedia, 3rd Edition (1970-1979). © 2010 The Gale Group, Inc. All rights reserved.