Ridge ventilator
Ridge ventilator
A raised section on a roof ridge provided with vents to admit air currents.
Illustrated Dictionary of Architecture Copyright © 2012, 2002, 1998 by The McGraw-Hill Companies, Inc. All rights reserved
ridge ventilator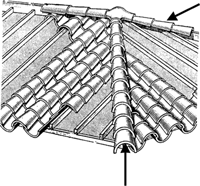 A
roof ventilator
that straddles a ridge of the roof of a barn; usually square in plan and constructed of wood and/or metal.
McGraw-Hill Dictionary of Architecture and Construction. Copyright © 2003 by McGraw-Hill Companies, Inc.