Root, John Wellborn
Root, John Wellborn
Root, John Wellborn,
1850–91, American architect, b. Lumpkin, Ga. He worked in New York City with James Renwick and became a partner of D. H.
Burnham
in Chicago. The firm created the modern type of highly organized architectural office suited to the planning of metropolitan buildings. Its partners were pioneers in the development of the steel-frame office building, and won international attention by their planning of the World's Columbian Exposition, Chicago, 1893. Root developed a type of ornament, based upon Romanesque design, that was later further developed by Louis Henry
Sullivan
.
Bibliography
See studies by H. Monroe (1896) and D. Hoffmann (1973).
The Columbia Electronic Encyclopedia™ Copyright © 2022, Columbia University Press. Licensed from Columbia University Press. All rights reserved.
Root, John Wellborn
(1850–1891)

American architect who, in a partnership with Daniel Burnham, influenced the development of the glass curtain wall typical of the Chicago School and defined the characteristics of the skyscraper. Works include the Monadnock Building (1891) and the Rookery (1886), both in Chicago.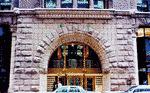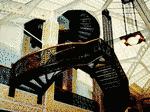 Illustrated Dictionary of Architecture Copyright © 2012, 2002, 1998 by The McGraw-Hill Companies, Inc. All rights reserved
Root, John Wellborn
(1850–91) architect; born in Lumpkin, Ga. The primary designer in a partnership with Daniel H. Burnham (1873–91), he designed innovative iron- and steel-framed Chicago skyscrapers that shaped the Chicago school of architecture in the 1880s.