SCSI
Also found in:
Dictionary
,
Thesaurus
,
Medical
,
Legal
,
Financial
,
Acronyms
,
Wikipedia
.
SCSI
[

′skəz·ē

]

(computer science)
SCSI
(Small Computer System Interface) Pronounced "scuzzy," SCSI is a hardware interface for up to 15 peripherals connected to one PCI or PCI Express card ("SCSI host adapter") on the motherboard. Introduced in 1986 by Shugart Associates (see SASI), this original parallel architecture was largely replaced by a serial version (see serial attached SCSI).

SCSI hard drives were used in mainframes, servers and storage arrays in the late-1980s and 1990s because they were very robust, and they were initially the only ones used in RAID configurations (see RAID). Eventually, less-costly IDE drives became highly reliable (see IDE and SATA).

SCSI Is a Mini-LAN
The SCSI bus is like a mini-LAN connecting 15 devices; actually 16 but the host counts as one. Any two can communicate at one time: host-to-peripheral and peripheral-to-peripheral. For more details, see SCSI Architecture Model, SCSI signaling, SCSI connectors and SCSI switch.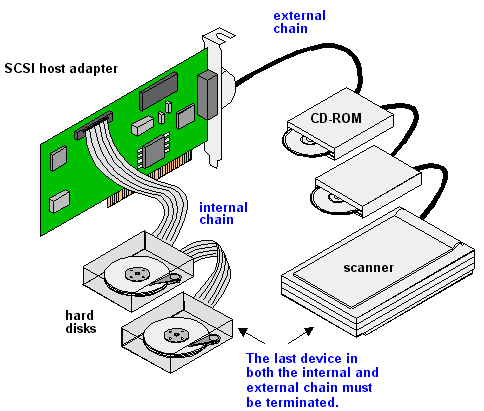 A "Scuzzy" Daisy Chain
SCSI enabled multiple peripherals to connect to one host adapter and take up only one slot in the computer. Devices included two ports to form a daisy chain.