Saarinen, Eero
Also found in:
Dictionary
,
Thesaurus
.
Saarinen, Eero
(ā`rō sä`rĭnĕn)

, 1910–61, Finnish-American architect, grad. Yale (B.A., 1934), became an American citizen in 1940; son of Eliel SaarinenSaarinen, Eliel
, 1873–1950, Finnish-American architect and city planner, resident of the United States after 1923. In Finland, Saarinen's most celebrated building was the railway station in Helsinki.
.....

Click the link for more information.

. Saarinen's reputation was established with his design of the General Motors Technical Center, Warren, Mich. (1951–55). His architectural innovations are significant, particularly in domical construction. At the Massachusetts Institute of Technology he built (1955) the circular brick chapel as well as the auditorium, notable for its thin-shelled concrete dome. He followed the principles of suspension-bridge construction in the David S. Ingalls Hockey Rink at Yale (1958). Saarinen created soaring intersecting concrete vaults for the building many consider his masterpiece, the Trans World Airlines Terminal at Kennedy International Airport, New York City (completed 1962). His most famous commission, however, is probably the Gateway Arch (designed 1948, completed 1965) at St. Louis, a monumental 630-ft-high (192-m) curve of stainless steel. His sole skyscraper is the CBS building (1960–64), New York City, a reinforced concrete tower with an elegant skin of glass and dark granite. He also created many collegiate buildings, including those at Concordia Senior College, Fort Wayne, Ind.; Vassar; and the Univ. of Chicago; and designed the American embassies at Oslo (1959) and London (1960). Saarinen died before the completion of two of his greatest projects, Dulles International Airport (1962) near Herndon, Va., and two polygonal college buildings at Yale.
Bibliography
See Eero Saarinen On His Work, ed. by A. Saarinen (rev. ed. 1968); E. Stoller, The TWA Terminal (1999); studies by B. Carter (2003), A Román (2003), and J. Merkel (2005).
The Columbia Electronic Encyclopedia™ Copyright © 2013, Columbia University Press. Licensed from Columbia University Press. All rights reserved.
www.cc.columbia.edu/cu/cup/
Saarinen, Eero
(1910–1961)

Finnish-born American architect and the son of Eliel Saarinen. Projects include the General Motors Technical Institute (illus.), Warren, MI (1951); Kresge Auditorium, MIT, Cambridge, MA (1952); David S. Ingalls Ice Hockey Rink (illus.), Yale University, New Haven, CT (1953); TWA Terminal at Kennedy International Airport (illus.), NYC (1956); Ezra Stiles and Morse College (illus.), Yale University, New Haven, CT (1958); Dulles International Airport, Washington, DC (1958), and the Gateway to the West Arch (illus.), St. Louis, MO (1965).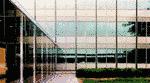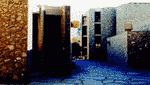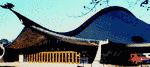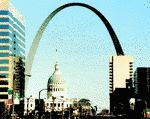 Illustrated Dictionary of Architecture Copyright © 2012, 2002, 1998 by The McGraw-Hill Companies, Inc. All rights reserved
The following article is from The Great Soviet Encyclopedia (1979). It might be outdated or ideologically biased.
Saarinen, Eero
Born Aug. 20, 1910, in Kirkkonummi, Finland; died Sept. 1, 1961, in Ann Arbor, Mich., USA. American architect. Son of Eliel Saarinen.
Saarinen, who emigrated to the USA in 1923, graduated in architecture from Yale University in 1934. After his father's death, he completed their joint design of the General Motors Research Center in Warren, Mich. (1945–55)—a complex reflecting the influence of Mies van der Rohe. Saarinen subsequently passed from rigid rationalism to a search for the symbolic, individualistic, and romantic expressiveness of architectural form. This transition is evident in the Harvard University chapel (1955) and the Yale University hockey rink (1958). Saarinen later turned to sculptural forms, as seen in the TWA terminal at Kennedy Airport in New York (1962). An organic combination of plastically rich architectural form and design distinguishes the Dulles Airport outside Washington (completed in 1962).
In the late 1950's Saarinen designed a number of buildings in the official style of American neoclassicism (US Embassy in London, 1960). During the same period he designed structures marked by stylized pseudo-Gothic motifs (a dormitory complex at Yale University, 1962). Exaggerated monumentality characterizes the CBS skyscraper in New York (1964). Continually experimenting, Saarinen failed to develop his own consistent style. However, his search for symbolic imagery greatly influenced the development of US architecture after 1960.
REFERENCES
Khan-Magomedov, S. O. "Ot 'shkoly Misa' k pozdnemu Le Korbiuz'e (Eero Saarinen)." In the collection Arkhitektura Zapada: Mastera i techeniia [book] 1. Moscow, 1972. Pages 115–34.
Temko, A. Eero Saarinen. New York, 1962.
The Great Soviet Encyclopedia, 3rd Edition (1970-1979). © 2010 The Gale Group, Inc. All rights reserved.
Saarinen, Eero
(1910–61) architect; born in Kirkknonummi, Finland. Brought to the U.S.A. in 1923 by his father, the Finnish architect/designer Eliel Saarinen, he studied sculpture in Paris and received a graduate degree in architecture from Yale (1934). In partnership with his father (1936–50) he helped define modernist architecture in a series of public, institutional, and commercial buildings known for their innovative technology and use of materials (the stainless steel Gateway Arch, St. Louis (1948–64)); General Motors Technical Center, Warren, Mich. (1951–56); John Deere and Company Building, Moline, Ill. (1957–63). His later sculptural designs are known for their formal imagery (Ingalls Hockey Rink, Yale University (1956–59)); TWA Terminal, Kennedy International Airport, New York (1956–62); Washington Dulles International Airport, Chantilly, Va. (1958–62). His last work and only skyscraper was the CBS Headquarters, New York (1960–64). Outstanding among the second generation of modern American architects, Saarinen viewed "the way [a] building is used" as determinative of its style; his work ranged stylistically from his early essays in the International style to the extreme plasticity of his later buildings, each project exhibiting a unique design solution. Saarinen was posthumously awarded the Gold Medal of the American Institute of Architects in 1962.