Saarinen, Eliel
Also found in:
Dictionary
,
Thesaurus
.
Saarinen, Eliel
(ĕl`ēĕl sä`rĭnĕn)

, 1873–1950, Finnish-American architect and city planner, resident of the United States after 1923. In Finland, Saarinen's most celebrated building was the railway station in Helsinki. He took second prize in the Chicago Tribune Tower competition in 1922. At the Cranbrook Foundation in Bloomfield Hills, Mich., he designed several buildings and also headed the Academy of Art. His other major works include the Crow Island Elementary School, Winnetka, Ill. (1939), and two churches in Columbus, Ind. (1941–42), and Minneapolis, Minn. (1949). His later designs were made in collaboration with his son, Eero SaarinenSaarinen, Eero
, 1910–61, Finnish-American architect, grad. Yale (B.A., 1934), became an American citizen in 1940; son of Eliel Saarinen. Saarinen's reputation was established with his design of the General Motors Technical Center, Warren, Mich. (1951–55).
.....

Click the link for more information.

.

The Columbia Electronic Encyclopedia™ Copyright © 2013, Columbia University Press. Licensed from Columbia University Press. All rights reserved.

www.cc.columbia.edu/cu/cup/
Saarinen, Eliel
(1873–1950)

Finnish-born American architect. Designed the Helsinki railway station, built of rugged granite and inspired by the designs of the Vienna Sezession and the Art Nouveau movement in Austria.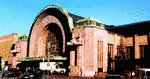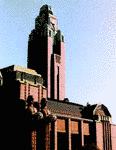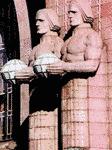 Illustrated Dictionary of Architecture Copyright © 2012, 2002, 1998 by The McGraw-Hill Companies, Inc. All rights reserved
The following article is from The Great Soviet Encyclopedia (1979). It might be outdated or ideologically biased.
Saarinen, Eliel
Born Aug. 20, 1873, in Rantasalmi, Finland; died June 30, 1950, in Bloomfield Hills, Mich., USA. Finnish architect, the founder of national romantic Finnish architecture.
From 1893 to 1897, Saarinen studied painting at the University of Helsinki and architecture at the Helsinki. Polytechnic Institute. His early work, which was done in collaboration with H. Gesellius and A. Lindgren, combined the techniques and materials (wood, granite) of folk architecture with the artistic devices of late-19th-century British architects (C. F. Voysey, P. Webb) and the proponents of the German Jugend-stil. An example is the Finnish pavilion for the Paris Exhibition of 1900. Saarinen's design for the Helsinki railroad station (designed in 1904, built from 1910 to 1914) is distinguished by a general picturesqueness and an abundance of figurative ornamentation (including sculpture). At the same time, the station is marked by a rational organization of space. The Helsinki railroad station was the culminating work of Finnish national romanticism.
In 1923, Saarinen settled in the United States. His work of the 1920's and 1930's pays homage to the stylization of Gothic revival and neoclassicism. Beginning in 1937, at which time he worked with his son, Eero, he combined rationalist plans with traditional architectural elements (for example, Christ Lutheran Church in Minneapolis, Minn., 1950).
Saarinen's early, unrealized urban planning projects, especially his decentralized plan for Greater Helsinki, had a considerable influence on the theory and practice of urban planning in Finland and the Scandinavian countries after World War II.
WORKS
Munkkiniemi-Haagaja Suur-Helsinki. Helsinki, 1915.
The City: Its Growth, Its Decay, Its Future. New York [1943].
Search for Form. New York [1948].
REFERENCE
Christ-Janer, A. Eliel Saarinen. Chicago [1948].
The Great Soviet Encyclopedia, 3rd Edition (1970-1979). © 2010 The Gale Group, Inc. All rights reserved.