Safranine
Also found in:
Dictionary
,
Thesaurus
,
Medical
,
Wikipedia
.
safranine
[

′saf·rə'nēn

]

(organic chemistry)

Any of a group of phenazine-based dyes; some are used as biological stains.

McGraw-Hill Dictionary of Scientific & Technical Terms, 6E, Copyright © 2003 by The McGraw-Hill Companies, Inc.
The following article is from The Great Soviet Encyclopedia (1979). It might be outdated or ideologically biased.
Safranine
any of a class of azine dyes. The simplest safra-nine is phenosafranine, with the structural formula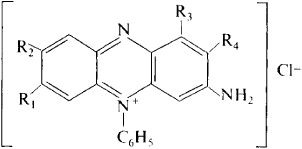 where R1 = NH2 and R2 = R3 = R4 = H. Phenosafranine is a red dye formed in small quantities upon the oxidation of a mixture of aniline and p-phenylenediamine. It has very few uses.
Tolusafranine, referred to commercially as safranine (R1 = NH2; R2 = R4 = CH3; R3 = H), is a bright red basic dye. It is formed upon the oxidation of a mixture of aniline, o-toluidine, and p-tolylenediamine. Tolusafranine was used until the 1940's as a dye for leather, paper, and textiles. Today, it has been almost completely replaced by dyes that are less expensive and more colorfast.
Pinakryptol (R1 = R2 = R4 = H; R3 = NH2) is a green dye obtained by the action on o-aminodiphenylamine of, first, picryl chloride and second, zinc with hydrochloric acid. It is used as a desensitizer in photography for lowering the sensitivity of photographic plates. All safranines are toxic.
The Great Soviet Encyclopedia, 3rd Edition (1970-1979). © 2010 The Gale Group, Inc. All rights reserved.