Sand Trap
Also found in:
Dictionary
,
Thesaurus
,
Medical
,
Legal
,
Financial
,
Wikipedia
.
sand trap
[

′san 'trap

]

(engineering)

A device in a conduit for trapping sand or soil particles carried by the water.
Sand Trap
a device for separating mechanical impurities of mineral origin (mainly sand) from sewage. The sand trap is usually installed before the settling tanks of sewage treatment plants. Sand traps are used because simultaneous separation of mineral and organic impurities in settling tanks makes the process of removing the sediment from the settling tanks and subjecting it to further treatment (fermentation) in digestion tanks difficult. The sand trap mainly entrains sand particles 0.25 mm or more in size.
Sand traps may have horizontal, vertical, or spiral movement of the water (the first is the most common). Traps with spiral movement of the water may be aerated with compressed air blown through the water. Horizontal sand traps are reinforced-concrete tanks of rectangular or trapezoidal cross section, in which the water moves at a rate of 0.15–0.30 m/sec and remains in the trap for 30–60 sec; the sand is precipitated by the force of gravity.
sand interceptor, sand trap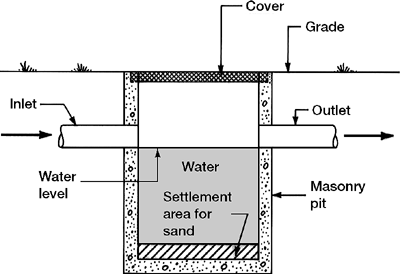 A small catch basin designed and constructed to prevent the