Sassanian architecture
Sassanian architecture
(200–600)

Architecture that was prevalent in Persia, primarily in palace complexes. It featured extensive barrel vaults and parabolic domes set on squinches and stuccoed with plaster mortar. One notable example is the Palace at Ctesiphon.
Sassanian architecture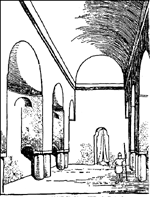 Architecture prevalent in Persia under the Sassanian dynasty (3rd to 7th cent. A.D.); excelled in large palace complexes with open
iwans
and the extensive use of barrel vaults and parabolic domes on squinches of brick or rubblestone, set in plaster mortar and constructed without centering. The massive walls were covered with stucco decor or articulated by pilasters and cornices.