hair hygrometer
(redirected from Saussure's hygrometer)
Also found in:
Medical
.
hair hygrometer
[

′her hī′gräm·əd·ər

]

(engineering)

A hygrometer in which the sensing element is a bundle of human hair, which is held under slight tension by a spring and which expands and contracts with changes in the moisture of the surrounding air or gas.

McGraw-Hill Dictionary of Scientific & Technical Terms, 6E, Copyright © 2003 by The McGraw-Hill Companies, Inc.
hairline hygrometer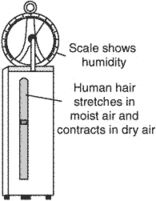 An instrument to measure humidity. It uses one or more human hairs, which are held under tension by a spring. The length of hair increases or decreases, depending on the prevalent humidity. Also called a
hair hygrometer
.
An Illustrated Dictionary of Aviation Copyright © 2005 by The McGraw-Hill Companies, Inc. All rights reserved