Savino
Savino
an urban-type settlement and administrative center of Savino Raion, Ivanovo Oblast, RSFSR. Savino has a railroad station on the Ivanovo-Novki line, 61 km south of Ivanovo. Industrial enterprises include textile and garment factories, a milk plant, and an industrial combine.
savino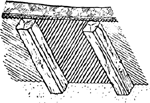 1.
One of many saplings used in roof construction in
pueblo architecture
; such saplings are laid across the roof beams
(vigas)
to provide support for fiber matting, then covered by a thick layer of earth or dried mud that acts as a roof.
2. Red cedar posts once used in Spanish Colonial homes.