Scotia
Also found in:
Dictionary
,
Wikipedia
.
Scotia
(skō`shə)

, originally the Latin name for Ireland. In the Middle Ages, it was used to refer to Scotland, to which the Scots had migrated from Ireland. Today it is used poetically.

The Columbia Electronic Encyclopedia™ Copyright © 2013, Columbia University Press. Licensed from Columbia University Press. All rights reserved.

www.cc.columbia.edu/cu/cup/
The following article is from The Great Soviet Encyclopedia (1979). It might be outdated or ideologically biased.
Scotia
an asymmetrical architectural molding whose cross section forms an arc of an ellipse or a more complex concave curve.
---
Scotia
an underwater ridge in the southern part of the Atlantic Ocean. Presumed to be an underwater continuation of the Andes mountain system of South America, the ridge extends for 3,500 km from Tierra del Fuego through the South Sandwich Islands to Antarctica. The maximum ocean depth above the ridge is 3,000 m. Parts of the ridge rise above the water to South Georgia Island and the South Sandwich, South Shetland, and South Orkney island groups.
The Great Soviet Encyclopedia, 3rd Edition (1970-1979). © 2010 The Gale Group, Inc. All rights reserved.
scotia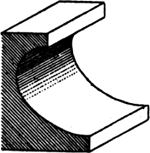 A deep concave molding, esp. one at the base of a column in Classical architecture. Also called a
gorge
,
trochilus.
McGraw-Hill Dictionary of Architecture and Construction. Copyright © 2003 by McGraw-Hill Companies, Inc.