Scotia molding
Scotia molding
A deep concave molding, especially one at the base of a column in Classical architecture.
scroll molding
An ornamental molding consisting of a spiral design or a terminal similar to the volutes of the Ionic capital or the S-curve on consoles.
square billet molding
A Norman molding consisting of a series of projecting cubes, with spaces between the cubes.
struck molding
A molding cut into rather than added to or planted onto another member.
sunk fillet molding
A molding slightly recessed behind the surface on which it is located; a fillet formed by a groove in a plane surface.
tresse molding
Flat or convex bandelets that are intertwined, especially such interlacing ornamentation used to adorn moldings.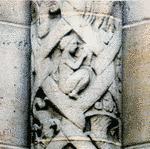 Illustrated Dictionary of Architecture Copyright © 2012, 2002, 1998 by The McGraw-Hill Companies, Inc. All rights reserved