Screed
Also found in:
Dictionary
,
Thesaurus
,
Wikipedia
.
screed
[

skrēd

]

(building construction)

A long, narrow strip of plaster placed at intervals on a surface as a guide for the thickness of plaster to be applied.

(civil engineering)

A straight-edged wood or metal template, fixed temporarily to a surface as a guide when plastering or concreting.

An oscillating metal bar mounted on wheels and spanning a freshly placed road slab, used to strike off and smooth the surface.
Screed
A wooden or metal guide for leveling plaster or concrete, typically placed along the edge of the work at the desired level.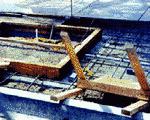 screed
1.
Firmly established grade strips or side forms for unformed concrete which will guide the
strikeoff
in producing the desired plane or shape; Also called
screed rail.
2. A tool to strike off the concrete surface.
3. A long, narrow strip of plaster, applied at intervals on a surface to be plastered; carefully leveled and trued to act as a guide for plastering to the specified thickness.
4. A layer of mortar laid on concrete, usually to provide a uniform, level surface.