thread
(redirected from Screw threads)
Also found in:
Dictionary
,
Thesaurus
,
Medical
,
Legal
,
Acronyms
.
thread,
a fine twist of fibrous material, distinguished from yarnyarn,
fibers or filaments formed into a continuous strand for use in weaving textiles or for the manufacture of thread. A staple fiber, such as cotton, linen, or wool, is made into yarn by carding, combing (for fine, long staples only), drawing out into roving, then spinning.
.....

Click the link for more information.

in general by being smoother, stronger, and more pliable; it is also better suited to sewing, embroidery, and lace making. Sewing or spool cottoncotton,
most important of the vegetable fibers, and the plant from which the fiber is harvested. The Cotton Plant

The cotton plant belongs to the genus Gossypium of the family Malvaceae (mallow family).
.....

Click the link for more information.

is made by twisting several fine strands into three-cord or six-cord thread, the latter being three two-ply strands twisted together. The size is controlled by the twisting process. The fine linen thread used in making expensive laces is spun by hand and is very costly. Synthetic threads, such as nylon, are most often used for heavy-duty sewing in carpets, shoes, and heavy canvases. Many ordinary sewing threads now contain some proportion of synthetic fiber.
Thread
a filamentous length made from twisted cotton, wool, spun flax, natural silk, or chemical fibers. There are special threads for sewing, embroidery, knitting, and darning. Thread comes in various colors and has a mat or shiny surface. There also are unpolished raw threads. The thickness of threads is designated numerically: the thinner the thread, the higher its number (for example, cotton threads range in thickness from 10 to 80).
What does it mean when you dream about thread?
Thread sometimes represents the link one has to this world, such as the umbilical cord. Thread also suggest binding together and strengthening. The dreamer may be strengthening commitments or relationships.
thread
[

thred

]

(computer science)

A sequence of beads that are strung together.

(design engineering)

A continuous helical rib, as on a screw or pipe.

(geology)

An extremely small vein, even thinner than a stringer.

(mining engineering)

A more or less straight line of stall faces, having no cuttings, loose ends, fast ends, or steps.

(textiles)

A continuous strand formed by spinning and twisting together short strands of textile fibers.
thread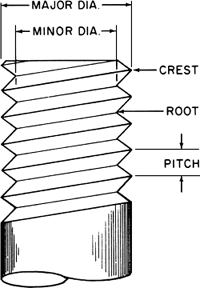 The prominent spiral part of a screw; a ridge of uniform section in the form of a helix on
thread
1. a fine cord of twisted filaments, esp of cotton, used in sewing, weaving, etc.
2. any of the filaments of which a spider's web is made
3. a helical groove in a cylindrical hole (female thread), formed by a tap or lathe tool, or a helical ridge on a cylindrical bar, rod, shank, etc. (male thread), formed by a die or lathe tool
4. the course of an individual's life believed in Greek mythology to be spun, measured, and cut by the Fates
thread
(1)
thread
(2)
thread
(3)
thread
(1) In a multithreaded system, a thread is one process that occurs simultaneously with other processes. See multithreading.

(2) A sequence of messages on the same topic in an email, newsgroup, forum, blog or groupware program. See threaded email and message thread.

(2) (Thread) An Internet of Things (IoT) protocol based on IPv6 addresses and the IEEE 802.15.4 standard for devices in the home. See IPv6, 802.15 and 6LoWPAN.