Seed Treater
The following article is from The Great Soviet Encyclopedia (1979). It might be outdated or ideologically biased.
Seed Treater
a machine for chemical treatment of seed with pesticides to kill agents of disease and grain pests. The seed treaters manufactured in the USSR are either of the auger-type (PSSh-3) or the drum-type (PZ-10 Kolos), depending on the primary working element.
The auger-type machine (Figure 1) treats seeds by the semidry or wet method. When the machine is in operation a loader continuously loads seed into the seed bin. From there a feed mechanism guides the seed into the housing of the mixing auger. At the same time, toxic chemicals from a special container and water from a tank (to wet the components) are fed into the auger. The auger mixes the components as it moves them toward the openings and then discharges the mixture into a bag or pile. This type of seed treater processes 3 tons/hr (when treating wheat). It is driven by a 0.6-kW (kilowatt) electric motor and is operated by two workers.
The drum-type machine (Figure 2) treats seed with fine-dispersion liquid suspensions of toxic chemicals. The chemicals are placed in a tank into which water is fed through an ejector pump and hose when the compressor is turned on. The suspension that forms is thoroughly mixed with an agitator and sprayed in finely dispersed form by a jet into the revolving mixing drum. The seed enters the drum from the seed hopper by means of gravity, mixes with the suspension, and is discharged by an auger into a vehicle. This type of seed treater processes 10–15 tons/hr and is driven by a 7-kW electric motor. It is run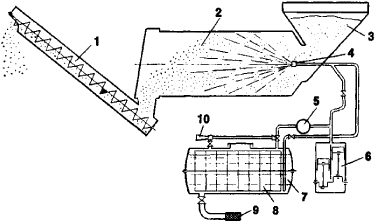 by a machine operator and two workers. Similar seed treaters are manufactured abroad.
The Great Soviet Encyclopedia, 3rd Edition (1970-1979). © 2010 The Gale Group, Inc. All rights reserved.