serial attached SCSI
(redirected from Serial-attached SCSI)
Also found in:
Acronyms
.
serial attached SCSI
A standard hardware interface for storage drives. Introduced in 2003, serial attached SCSI (SAS) superseded the parallel SCSI interface and is widely used in datacenters where large numbers of drives are required (see illustration below).

SAS drives are generally faster than SATA drives and more reliable, but are also more costly. Although SATA drives can be connected to a SAS interface, SAS drives require an adapter to hook up to a SATA controller (see SATA and SATA Express).

SAS is a point-to-point architecture that uses a controller (host bus adapter) with two full-duplex channels that operate simultaneously. Each channel (SAS port) transfers data at 3, 6 or 12 Gbps in each direction. In contrast, the consumer-oriented SATA interface has only one channel.

SAS Protocols: SSP, STP and SMP
The Serial SCSI Protocol (SSP) is used for SAS drives, and the Serial ATA Tunneling Protocol (STP) is employed for SATA drives. Expanders use the Serial Management Protocol (SMP). See SCSI and hard disk interfaces.



Massive Scalability
SAS channels (ports) can connect to a single drive or to an expander that connects up to 128 drives (or host bus adapters). A Fanout Expander can connect Edge Expanders, and one system can support 16,256 drives.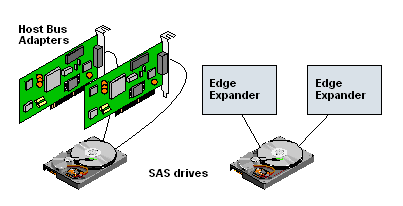 Dual Ports for Fault Tolerance
SAS drives use the same form factor as Serial ATA (SATA) for the cable connector but add a second port for connection to two controllers or expanders for fault tolerance.
Copyright © 1981-2019 by The Computer Language Company Inc. All Rights reserved. THIS DEFINITION IS FOR PERSONAL USE ONLY. All other reproduction is strictly prohibited without permission from the publisher.