Service conduit
Also found in:
Dictionary
.
Service conduit
A pipe that carries electrical service from the street to the service main in the building.
service pipe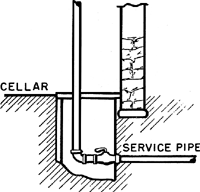 1. The section of pipe which connects the public water or gas main to a termination point within a building, such as a meter or trap.
2.
In an electric wiring system, the conduit or pipe that contains underground
service conductors
and extends from the junction with the outside supply wires into the premises of the building served.