Smart Compose
Also found in:
Dictionary
.
Smart Compose
Google's automatic completion of a sentence when composing a Gmail message. Introduced in 2018, as soon as the system suggests additional words that might be appropriate, they are displayed in gray. To accept, users press Tab, and the gray letters become black; otherwise, they keep typing. See Smart Reply, predictive text and autocomplete.




A Smart Compose Suggestion
Immediately after "How h" was typed, the "ave you been?" was displayed. Pressing Tab accepts the suggestion.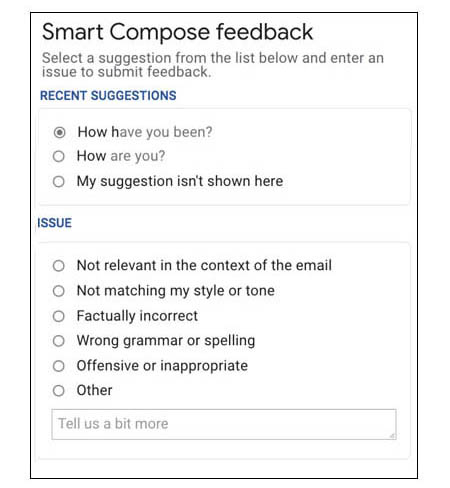 Feeback Is Optional
If the cursor is hovered over the suggested gray words, a feedback link appears that displays this dialog if clicked. Users can submit information to help Google and themselves with future messages.