SoC
Also found in:
Dictionary
,
Thesaurus
,
Medical
,
Financial
,
Acronyms
,
Wikipedia
.
SoC
(1) (Security Operations Center) A facility SOC monitors human and vehicle access. An information technology SOC monitors the hardware, software and networks.

(2) (System-On-Chip) Pronounced "S-O-C." An electronic system on a single chip. A system-on-chip (SoC) typically includes a CPU along with graphics and other processing components. For example, a smartphone SoC would include the processor cores, graphics processing unit (GPU), memory caches and a neural processing unit (NPU). In this case, NAND flash storage, RAM, camera, audio, power and numerous small ICs are on the device's motherboard outside the SoC. See GPU and neural processing unit.

The more functions contained within a single chip, the more systems can be miniaturized for handheld use with an ancillary reduction in power. See PSoC, mobile platform, microcontroller, system in package and package on package.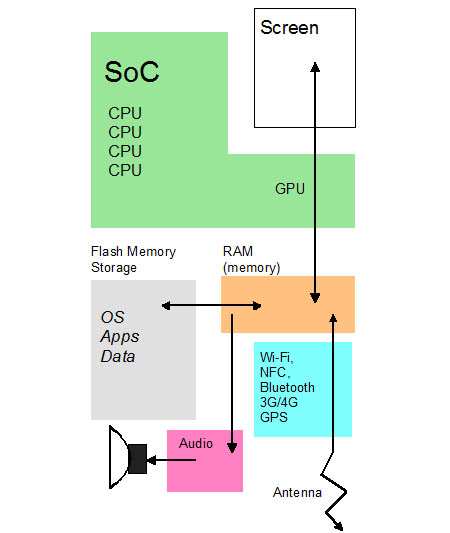 Smartphone System-on-Chip
This is a simplified look at a phone SoC, which can have as many as eight CPUs and many more components, including memory caches that are staging areas between the RAM and CPU. The SoC may also include a neural processing engine, which speeds up AI operations. While each block indicates a major chip, the phone also has chips for the camera, battery, power management and external charging port. There are dozens more for numerous functions.