Solarium
Also found in:
Dictionary
,
Thesaurus
,
Medical
,
Wikipedia
.
solarium
1. a bed equipped with ultraviolet lights used for acquiring an artificial suntan
2. an establishment offering such facilities
Solarium
In ancient architecture, a terrace on top of a flat-roofed house or over a porch, surrounded by a parapet wall but open to the sky; a sunny room with more glass than usual, and often used for therapy.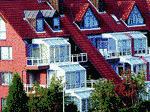 Solarium
(Russian, soliarii), a specially equipped open area for the administration of doses of direct or diffuse solar radiation.
---
Solarium
(Russian, fotarii), a room in which group ultraviolet irradiation is performed for therapeutic or prophylactic purposes. Mercury-vapor lamps, xenon arc lamps, or luminescent erythematous lamps made of uviol glass are used as the ultraviolet radiation source. Solaria are found at medical-preventive institutions (such as sanatoriums and public health stations at mines and factories), sports halls, and houses of rest.
solarium
A sunny room with more glass than usual, esp. one used for therapy.