solenoid
(redirected from Solonoid)
Also found in:
Dictionary
,
Thesaurus
,
Medical
.
solenoid
(sō`lənoid')

, device made of a long wire that has been wound many times into a tightly packed coil; it has the shape of a long cylinder. If current is sent through a solenoid made of insulated wire and having a length much greater than its diameter, a uniform magnetic field will be created inside the solenoid. This field can be intensified by inserting a ferromagnetic core into the solenoid. See electromagnetelectromagnet,
device in which magnetism is produced by an electric current. Any electric current produces a magnetic field, but the field near an ordinary straight conductor is rarely strong enough to be of practical use.
.....

Click the link for more information.

; magnetismmagnetism,
force of attraction or repulsion between various substances, especially those made of iron and certain other metals; ultimately it is due to the motion of electric charges.
.....

Click the link for more information.

.

The Columbia Electronic Encyclopedia™ Copyright © 2013, Columbia University Press. Licensed from Columbia University Press. All rights reserved.

www.cc.columbia.edu/cu/cup/
The following article is from The Great Soviet Encyclopedia (1979). It might be outdated or ideologically biased.
Solenoid
an electrically energized coil that is usually in the form of an insulated wire wound on a cylindrical surface. If the length of the coil is substantially longer than the diameter, the magnetic field in the middle of the coil is uniform and is directed parallel to the axis of the coil. The field strength in this central part is proportional to the current and (approximately) to the number of turns. The external magnetic field of a solenoid is similar to the field of a bar magnet (see Figure 1, p. 256). When the coil has an iron core, the solenoid constitutes an electromagnet.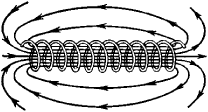 The Great Soviet Encyclopedia, 3rd Edition (1970-1979). © 2010 The Gale Group, Inc. All rights reserved.
solenoid
[

′säl·ə'nȯid

]

(electromagnetism)

Also known as electric solenoid.

An electrically energized coil of insulated wire which produces a magnetic field within the coil.

In particular, a coil that surrounds a movable iron core which is pulled to a central position with respect to the coil when the coil is energized by sending current through it.

(meteorology)

McGraw-Hill Dictionary of Scientific & Technical Terms, 6E, Copyright © 2003 by The McGraw-Hill Companies, Inc.
solenoid
1. a coil of wire, usually cylindrical, in which a magnetic field is set up by passing a current through it
2. a coil of wire, partially surrounding an iron core, that is made to move inside the coil by the magnetic field set up by a current: used to convert electrical to mechanical energy, as in the operation of a switch
3. such a device used as a relay, as in a motor vehicle for connecting the battery directly to the starter motor when activated by the ignition switch
Collins Discovery Encyclopedia, 1st edition © HarperCollins Publishers 2005
solenoid
A mechanical switch that is activated by a magnetic coil. It is used to open and close an electric circuit, open or close a valve in a fluid pipe or cause some mechanical action to be triggered.

Copyright © 1981-2019 by The Computer Language Company Inc. All Rights reserved. THIS DEFINITION IS FOR PERSONAL USE ONLY. All other reproduction is strictly prohibited without permission from the publisher.