Split
(redirected from Spalatum)
Also found in:
Dictionary
,
Thesaurus
,
Medical
,
Financial
.
Split
(splēt)

, Ital. Spalato, city (2011 pop. 178,102), S Croatia, on the Dalmatian coast of the Adriatic Sea. It is a major seaport, a regional transportation hub, and a leading commercial center. Shipbuilding and the production of plastics, chemicals, and cement are the leading industries. The city's scenic location and historic monuments make it an important tourist and seaside resort.

Split grew around the palace of DiocletianDiocletian
(Caius Aurelius Valerius Diocletianus) , 245–313, Roman emperor (284–305), b. near Salona, Dalmatia (the modern Split, Croatia). Of humble birth, he obtained high military command under Probus and Aurelian and fought under Carus in Persia.
..... Click the link for more information. (who died there), built between 295 and 305. In the 7th cent. the inhabitants of nearby SalonaSalona
, Latin Salonae, ancient city of Dalmatia, 3 mi (5 km) NE of modern Split, Croatia. A port on the Adriatic, it was used as a base for Roman conquest and was made a Roman colony and the capital of Illyricum in the 1st cent. B.C.
..... Click the link for more information. took refuge from the AvarsAvars
, mounted nomad people who in the 4th and 5th cent. dominated the steppes of central Asia. Dislodged by stronger tribes, the Avars pushed west, increasing their formidable army by incorporating conquered peoples into it. Reaching their greatest power in the late 6th cent.
..... Click the link for more information. in the palace, which became the nucleus of the city. Split soon was made an episcopal, later an archiepiscopal, see of the Roman Catholic Church and became a flourishing port of medieval DalmatiaDalmatia
, Croatian Dalmacija, historic region of Croatia, extending along the Adriatic Sea, approximately from Rijeka (Fiume) to the Gulf of Kotor. Split is the provincial capital; other cities include Zadar (the historic capital), Šibenik, and Dubrovnik.
..... Click the link for more information. . It passed to Venice in 1420, but the Treaty of Campo Formio (1797) gave it to Austria, to which it was restored (1815) after the Napoleonic Wars. It was included in Yugoslavia in 1918. The city was the site of much fighting after the breakup of Yugoslavia.

The city has an archaeological museum, an oceanographic institute, and a university. The palace of Diocletian is the most remarkable among the Roman remains in Split. Its other ancient buildings include the cathedral and the baptistery, both originally Roman temples; parts of its ancient walls and gates; and the town hall.

The Columbia Electronic Encyclopedia™ Copyright © 2013, Columbia University Press. Licensed from Columbia University Press. All rights reserved.

www.cc.columbia.edu/cu/cup/
Split
A cleft in a piece of wood that goes all the way through the member.
Illustrated Dictionary of Architecture Copyright © 2012, 2002, 1998 by The McGraw-Hill Companies, Inc. All rights reserved
The following article is from The Great Soviet Encyclopedia (1979). It might be outdated or ideologically biased.
Split
a city and port in Yugoslavia, in the Socialist Republic of Croatia, on the Adriatic Sea. Population, 158,000 (1974). Yugoslavia's second largest port, after Rijeka, in goods turnover (1.8 million tons in 1972) and largest in passenger traffic (more than 1.4 million persons annually).
Together with neighboring population centers, Split forms a major industrial hub of the country. Industries include shipbuilding, textile manufacture, chemical production, food processing, and cement production (about half of Yugoslavia's cement output). The city has a hydroelectric power plant. Split is the site of a research institute of biology and oceanography. It has marine, archaeological, and ethnographic museums. The Art Gallery, primarily housing Yugoslav art, and the Mestrovic Gallery are also located in the city. Split is a tourist and health resort.
Split's architectural monuments include the Roman palace of Diocletian (c. A.D. 300), whose layout is based on that of a military camp. The palace complex includes administration buildings, outbuildings, the mausoleum of Diocletian (converted into a cathedral in the Middle Ages), and the temple of Jupiter (converted into a baptistery in the Middle Ages). Numerous examples of Gothic, Renaissance, and baroque architecture have been preserved in Split's medieval section, which includes the palace area and the region west of the palace.
REFERENCES
Keckemet, D. Bíbliografija o Splitu, vols. 1–2. Split, 1955–56.
---
Split
a layer of dermis obtained by splitting, that is, separating into layers, a hide during the manufacture of leather. Splits are classified as grain, middle, or flesh. Thin grain splits are used in producing haberdashery leather and the leather used for camera cases. Thicker grain splits and middle splits are used in footwear. Flesh splits are used to make velour for footwear and clothing, as well as the chrome-tanned leather used in shoe uppers and the Russia leather, which have artificial grains. Small splits and trimmings are used in making technical-grade gelatin, glue, and other products of collagen dissolution.
The Great Soviet Encyclopedia, 3rd Edition (1970-1979). © 2010 The Gale Group, Inc. All rights reserved.
What does it mean when you dream about splitting?
To break apart from or be broken apart, perhaps referring to a relationship or a partnership. This may bring relief, or the dreamer may be experiencing separation anxieties.
The Dream Encyclopedia, Second Edition © 2009 Visible Ink Press®. All rights reserved.
split
[

split

]

(computer science)

To divide a data base, file, or other data set into two or more separate parts.

(geology)

A coal seam that cannot be mined as a single unit because it is separated by a parting of other sedimentary rock. Also known as coal split; split coal.

(mining engineering)

To divide the air current into separate circuits to ventilate more than one section of the mine.

Any division or branch of the ventilating current.

McGraw-Hill Dictionary of Scientific & Technical Terms, 6E, Copyright © 2003 by The McGraw-Hill Companies, Inc.
split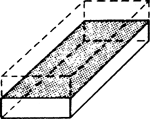 1. A rupture in a built-up roof membrane, resulting from tensile stresses.
2. A crack that extends completely through a piece of wood or wood veneer.
3.
A brick cut lengthwise, in two pieces, parallel to the wide face of the brick, so that it is half as thick; also called
scone.
McGraw-Hill Dictionary of Architecture and Construction. Copyright © 2003 by McGraw-Hill Companies, Inc.
split
Tenpin bowling a formation of the pins after the first bowl in which there is a large gap between two pins or groups of pins
---
Split
a port and resort in W Croatia on the Adriatic: remains of the palace of Diocletian (295--305). Pop.: 188 000 (2005 est.)
Collins Discovery Encyclopedia, 1st edition © HarperCollins Publishers 2005
split
This article is provided by FOLDOC - Free Online Dictionary of Computing (foldoc.org)