Stacker
Also found in:
Dictionary
,
Thesaurus
,
Medical
,
Legal
,
Financial
,
Idioms
,
Wikipedia
.
stacker
[

′stak·ər

]

(mechanical engineering)

A machine for lifting merchandise on a platform or fork and arranging it in tiers; operated by hand, or electric or hydraulic mechanisms.
Stacker
a machine for placing hay and straw in stacks or ricks, as well as for loading shocks into vehicles. A stacker may also be used to load manure, silage, grain, mineral fertilizers, and packed goods. Stackers are thus equipped with interchangeable working elements—forks, scoops, and hooks—for handling various items. Stacker types include tractor semimounted and mounted models with a grapple fork, mobile motor-driven cranes with a reversible or nonreversible platform and a grasping device, tipping stackers, and elevator stackers. Stackers used in the USSR are equipped with grapple hooks and are mounted on tractors in the 1.4-ton-force class.
---
Stacker
a materials-handling machine with a frontally attached lifting device or pair or forks capable of being raised and lowered. A stacker travels along the surface of the floor on wheels made of metal, plastic, or solid rubber and is designed to stack merchandise or place it on racks to a height of up to 8 m. A stacker is controlled from its cab, which, in some cases, may be raised and lowered itself. The load-lifting capacity of a stacker can be as much as 3.2 tons.
stacker
(1) (Stacker) An earlier real-time compression program from Stac Electronics, Carlsbad, CA. It doubled the disk capacity of a DOS, Windows, Mac or OS/2 computer.

(2) An output bin on a copy or fax machine or other paper feeding device. In the early days of data processing, stackers were found on every punch card machine. Contrast with hopper. See tabulator.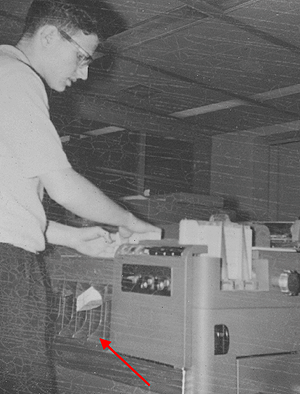 Punch Card Stackers (1960)
Ordering data into sequence required placing the punch cards in the input hopper of the sorter, running them through, removing them from the stackers (arrow) and putting them back in the hopper again. For example, sorting a ten-digit account number required 10 passes through the machine.