Staggered partition
Staggered partition
Two rows of studs that are thinner than the top and bottom plates, and are alternately offset from the surface of the plates; each side of the wall is attached to the alternate stud; used to prohibit the passage of sound through the wall.
Illustrated Dictionary of Architecture Copyright © 2012, 2002, 1998 by The McGraw-Hill Companies, Inc. All rights reserved
staggered-stud partition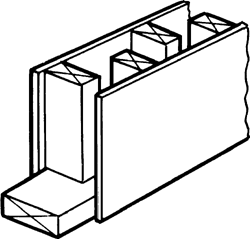 A partition using wood studs which are not in a straight line, but in two rows which are
staggered
; one row of studs supports the lath on one side of the wall, and the second row supports the lath on the other; a fiberglass blanket may be woven between the staggered studs to improve the sound insulation value of the wall.
McGraw-Hill Dictionary of Architecture and Construction. Copyright © 2003 by McGraw-Hill Companies, Inc.