storage
(redirected from Storage (disambiguation))
Also found in:
Dictionary
,
Thesaurus
,
Medical
.
storage
1. a charge made for storing
2.
Computing
a. the act or process of storing information in a computer memory or on a magnetic tape, disk, etc.
b. (as modifier): a storage device
Collins Discovery Encyclopedia, 1st edition © HarperCollins Publishers 2005
storage
[

′stȯr·ij

]

(computer science)

Any device that can accept, retain, and read back one or more times; the means of storing data may be chemical, electrical, magnetic, mechanical, or sonic.

McGraw-Hill Dictionary of Scientific & Technical Terms, 6E, Copyright © 2003 by The McGraw-Hill Companies, Inc.
storage
(storage)

(Or "memory") A device into which data can be entered, in which they can be held, and from which they can be retrieved at a later time.

This article is provided by FOLDOC - Free Online Dictionary of Computing (foldoc.org)
storage
The permanent holding place for digital data, until purposely erased. Storage is a repository that retains its content without power and includes magnetic disks, solid state drives (SSDs) and flash drives. The chips in these devices are said to be "non-volatile." Rewritable CD, DVD and Blu-ray discs, as well as magnetic tapes, are also non-volatile storage.

Storage specifically excludes the computer's main memory. Main memory, comprised of DRAM and SRAM chips, is a temporary workspace for executing instructions and processing data. These RAM chips do not hold their content when the power is turned off. Memory chips are "volatile."

Storage vs. Memory - More Confusing All the Time
Over the years, some vendors referred to disks and tapes as "memory" products, which blurs the distinction between storage and memory (RAM). To further confuse things, the flash "memory" chips in memory cards, solid state drives (SSDs) and USB drives are, in fact, storage chips that hold their content without power. See storage vs. memory, memory, dynamic RAM and static RAM. For summaries of all storage technologies, see magnetic disk, magnetic tape and optical disc.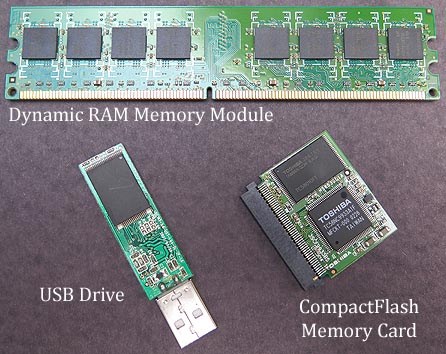 They're All Chips, But...
The RAM chips (top) and the storage chips (bottom) in a USB drive and CompactFlash card (cases are removed) may look alike, but RAM chips are fast and volatile, while storage chips are slower and non-volatile. See memory module, USB drive and CompactFlash.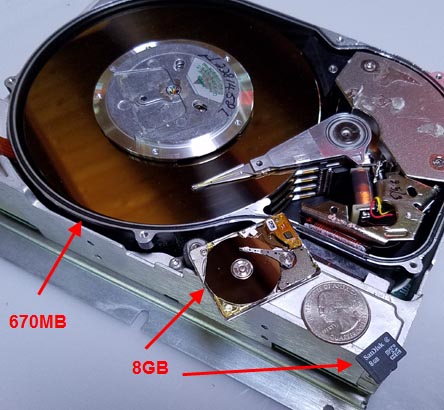 Storage Evolution
In the early 1990s, this 670MB multi-platter hard drive weighed 17 pounds including its case. By 2006, a half-ounce Microdrive (center) had 12 times as much storage on a single platter the size of a quarter. The solid state microSD card (right) weighs half a gram. See hard disk and Microdrive.
Copyright © 1981-2019 by The Computer Language Company Inc. All Rights reserved. THIS DEFINITION IS FOR PERSONAL USE ONLY. All other reproduction is strictly prohibited without permission from the publisher.