San
(redirected from Storage network)
Also found in:
Dictionary
,
Medical
.
San
(săn)

, people of SW Africa (mainly Botswana, Namibia, Angola, and South Africa), consisting of several groups and numbering about 100,000 in all. They are generally short in stature; their skin is yellowish brown in color; and they have broad noses, flat ears, bulging foreheads, and prominent cheekbones. The San have been called Bushmen, but the term is considered derogatory.

Once nomadic hunters and gatherers of wild food in desolate areas like the Kalahari desert of SW Africa, most of the San now live in settlements and work on cattle ranches or farms. This transition sometimes has been forced by government policies; legal and physical obstacles in Botswana, including the setting aside of San ancestral land in reserves, have frustrated San who wish seek to live traditionally and led to court cases. San life historically centered on the small hunting band as the main social unit, with larger organizations being loose and temporary. Caves and rock shelters were used as dwellings, and they possessed only what they can carry, using poisoned arrowheads to fell game and transporting water in ostrich-egg shells. The San have a rich folklore, are skilled in drawing, and have a remarkably complex language characterized by the use of click sounds, related to that of the KhoikhoiKhoikhoi
, people numbering about 55,000 mainly in Namibia and in W South Africa. The Khoikhoi have been called Hottentots by whites in South Africa. In language and in physical type the Khoikhoi appear to be related to the San (Bushmen), i.e.
..... Click the link for more information. .

For thousands of years the San lived in S and central Africa; genetic evidence suggests that they and the Khoikhoi were isolated from others humans from c.100,000 years ago until c.3,000 years ago. At the time of the Portuguese arrival in the 15th cent., however, they had been forced into the interior of S Africa. In the 18th and 19th cent., they resisted the encroachment on their lands of Dutch settlers, but by 1862 that resistance had been crushed.
Bibliography
See E. M. Thomas, The Harmless People (1959, repr. 1969) and The Old Way (2006); J. B. Wright, Bushmen Raiders of the Dakensberg, 1840–1870 (1971); L. J. Marshall, !Kung of Nyae Nyae (1975) and Nyae Nyae !Kung Belief and Rites (1999); R. B. Lee and I. DeVore, Hunter-Gatherers (1976).
The Columbia Electronic Encyclopedia™ Copyright © 2013, Columbia University Press. Licensed from Columbia University Press. All rights reserved.
www.cc.columbia.edu/cu/cup/
The following article is from The Great Soviet Encyclopedia (1979). It might be outdated or ideologically biased.
San
a city in Mali, on the Bamako-Gao highway, in Ségou Region. Population, 14,300(1969).
San is the commercial center of an agricultural region that grows cotton, rice, cassava, millet, sorghum, and peanuts and raises livestock. The city has cotton-ginning and rice-milling plants. Construction materials are manufactured as well.
---
San
a river in southeastern Poland, a right tributary of the Vistula River. For a short distance the upper San flows along the border between Poland and the USSR. The San is 444 km long and drains an area of 16,700 sq km. Rising in the Eastern Beskidy, a mountain range in the Carpathian system, it flows through a hilly plain and crosses the Sandomierz Lowland. There is high water from February to May; during the rest of the year the water level is quite low, with occasional flash floods. The mean flow rate in the lower course is 125 cu m per sec. Timber is floated down the river. In 1968 the Solina Reservoir, with a volume of approximately 500 million cu m, and a hydroelectric power plant, with a capacity of 120 megawatts, were constructed on the upper San. The cities of Sanok, Przemyśl, and Jarosław are located on the river.
The Great Soviet Encyclopedia, 3rd Edition (1970-1979). © 2010 The Gale Group, Inc. All rights reserved.
SAN
(organic chemistry)
McGraw-Hill Dictionary of Scientific & Technical Terms, 6E, Copyright © 2003 by The McGraw-Hill Companies, Inc.
SAN
On drawings, abbr. for "sanitary."
McGraw-Hill Dictionary of Architecture and Construction. Copyright © 2003 by McGraw-Hill Companies, Inc.
San
a river in E central Europe, rising in W Ukraine and flowing northwest across SE Poland to the Vistula River. Length: about 450 km (280 miles)
Collins Discovery Encyclopedia, 1st edition © HarperCollins Publishers 2005
SAN
Storage Area Network
This article is provided by FOLDOC - Free Online Dictionary of Computing (foldoc.org)
SAN
(Storage Area Network) An array of disk drives in a self-contained unit. In large enterprises, SANs serve as pools of storage for the servers in the network. Compared to managing disks attached to each server, SANs improve system administration. Treating all storage as a single resource makes disk maintenance and routine backups easier to schedule and control. To support disaster recovery, redundant SANs are deployed in separate locations, each a copy of the other.

The SAN transfers data between servers and disks at the same fast peripheral channel speeds as if directly attached, and Fibre Channel has been the traditional interface. Some SANs perform backup procedures without any processing overhead at the host computers. See Fibre Channel.

Centralized or Distributed
A centralized SAN connects the storage array to local servers, whereas a distributed SAN uses one or more Fibre Channel or SCSI switches to connect nodes within buildings or campuses. For long distances, SAN traffic is transferred over ATM, SONET or dark fiber. There are also protocols for sending data to a SAN over local IP/Ethernet networks and the Internet (see IP storage).


Channel Attached vs. Network Attached

SANs are channel attached. However, a related technology is the less-costly network attached storage (NAS) device. The NAS is a specialized file server that connects to the network like any other workstation or server and is thus subject to the variable traffic and erratic behavior of the network.

Although the SAN and NAS are both storage arrays, they operate differently. The channel-attached SAN extends the server's peripheral reach, whereas the NAS is just another node on the network. For more details, see block level. See NAS, SCSI switch and SNIA.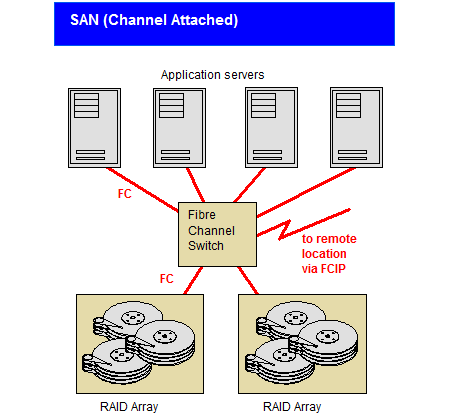 SAN vs. NAS
A SAN is like attached disk storage, while the NAS is a file server. They both fall under the "storage network" umbrella.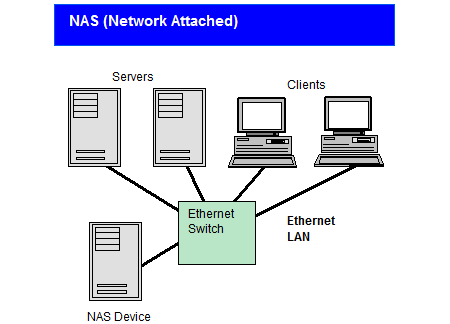 SAN vs. NAS
A SAN is like attached disk storage, while the NAS is a file server. They both fall under the "storage network" umbrella.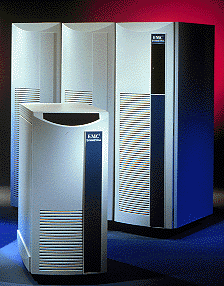 Channel Attached
EMC has been a pioneer in SANs for the enterprise, and its Symmetrix systems support up to 128 channels and petabytes of data. (Image courtesy of EMC Corporation.)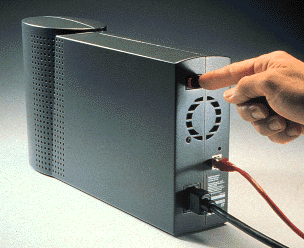 Network Attached
Containing only an on/off switch and Ethernet port, Adaptec's Snap Server provides instant storage by merely plugging it into the network. (Image courtesy of Adaptec, Inc., www.snapserver.com)
Copyright © 1981-2019 by The Computer Language Company Inc. All Rights reserved. THIS DEFINITION IS FOR PERSONAL USE ONLY. All other reproduction is strictly prohibited without permission from the publisher.