Tamping Machine
Also found in:
Wikipedia
.
The following article is from The Great Soviet Encyclopedia (1979). It might be outdated or ideologically biased.
Tamping Machine
a track machine for tamping the ballast layer of a track superstructure. There are both cyclic and continuous-action types. Cyclic tampers, mounted on railroad car frames, pack the ballast layer separately beneath each tie. They operate by means of 16 or 32 vertical tamping arms that oscillate simultaneously through the action of an eccentric shaft and that close and open by pairs through the action of a squeezing mechanism (see Figure 1). An internal-combustion engine with a hydraulic drive is used to turn the eccentric shaft and squeezing mechanism. The oscillating arms of the machine dig into the ballast layer beneath the tie being tamped and close, thus pressing the ballast underneath; they then draw apart and lift up, and the machine moves on to the next tie. The tamping cycle takes 6–8 seconds. Such machines can tamp up to 700 ties per hr. Cyclic tamping machines that tamp two ties simultaneously have also been developed. They can handle up to 2,000 ties per hr.
Modern tamping machines are equipped with automatic aligning systems. The system consists of a spotlight or laser and a photodetector. The spotlight or laser is mounted on a cart up to 150 m in front of the tamping machine and directs a beam of light toward the machine; the photodetector is connected to the track being aligned. The rails and ties are raised until the beam strikes the photodetector.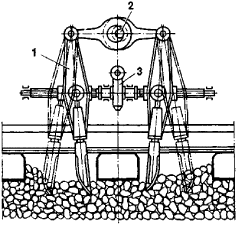 The working elements of a tamping machine designed for continuous operation are mounted on a railroad car frame or crawler chassis; they consist of wedge-shaped tamping plates equipped with internal vibrators and suspended on springs. The ballast layer is tamped by the vibration and by the wedge shape of the plates moving parallel to the faces of the ties. Aligning-tamping-finishing machines operate on the same principle to perform the entire cycle of jobs automatically—aligning the tracks, tamping the ballast layer, and grading and packing the ballast slopes. Such machines have electromagnets and hydraulic cylinders that grab, raise, and shift the rails and ties in order to lay them in the necessary position. The model VPO-3000 aligning-tamping-finishing machine can work up to 3 km of track per hr.
Manual tamping machines with pneumatic or electric vibrators are used for small jobs.
The Great Soviet Encyclopedia, 3rd Edition (1970-1979). © 2010 The Gale Group, Inc. All rights reserved.