Tangent Line
Also found in:
Dictionary
,
Acronyms
,
Wikipedia
.
Tangent Line
the limit of a secant. The tangent is defined as follows: Let M be a point on the curve L (Figure 1). Select a second point M on L and draw the line MM'. Let us consider M to be stationary, and let the point M approach M along the curve L. If, as M approaches M, the line MM' approaches a single definite line MT, then MT is called the tangent to the curve L at the point M. Not all continuous curves have a tangent, since the line MM' may not approach a limit or may approach two different limits when M approaches M from different sides of M (Figure 2).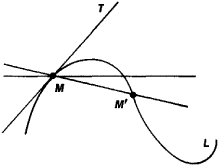 The curves encountered in elementary geometry have a well-defined tangent at all points, except at certain "singular" points. If a plane curve is defined in rectangular coordinates by the equation y = f(x) and f(x) is differentiable at the point x0, then the slope of the tangent at the point M with abscissa x0 is equal to the derivative f'(x0) at the point x0. The equation of the tangent at this point has the form
y−f(x0)=f'(x0)(x−x0)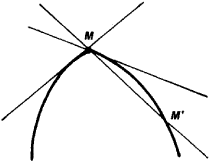 Any line that passes through a point M on a surface S and thatlies in the tangent plane to S at the point M is called a tangentline to a surface S at a point M.