Tao
Also found in:
Dictionary
,
Thesaurus
,
Financial
,
Acronyms
,
Wikipedia
.
TAO
(language)

1. A

Lisp

dialect with

concurrency

,

object-orientation

and logic.

["Concurrent Programming in TAO - Practice and Experience", I. Takeuchi in Parallel Lisp: Languages and Systems, T. Ito et al eds, LNCS 441, Springer 1989, pp. 271-299].

This article is provided by FOLDOC - Free Online Dictionary of Computing (foldoc.org)
The following article is from The Great Soviet Encyclopedia (1979). It might be outdated or ideologically biased.
Tao
one of the most important categories of Chinese philosophy. The literal meaning of "tao" is "path." Confucius and the early Confucians gave an ethical meaning to the term, interpreting it as "man's path," that is, moral conduct and the social order based on morality. In the philosophy of Taoism, the term "tao" has acquired an on-tological. rather than an ethical, meaning, which has come to signify both the original cause of the universe and its basis, the mysterious and unknowable regularity and wholeness of life. In the philosophy of neo-Confucianism, the term "tao" is usually identified with the term "li" ("principle") and is counterposed to the material substratum ch'i. The founder of the rationalist system of neo-Confucianism, Chu Hsi, emphasized the identity of man's tao with that of the surrounding world.
REFERENCES
Konrad, N. I. "Filosofiia kitaiskogo Vozrozhdeniia." In his book Zapad i Vostok. Moscow, 1966.
Bykov, P. S. Zarozhdenie obshchestvenno-politicheskoi ifilosofskoi mysli v Kitae. Moscow, 1966.
Fung Yu-lan. A History of Chinese Philosophy, vols. 1–2. Princeton, 1952–53.
The Great Soviet Encyclopedia, 3rd Edition (1970-1979). © 2010 The Gale Group, Inc. All rights reserved.
track-at-once
To record all the data on a CD-R disc one track at a time. The laser is turned off after each track, which produces a two-second gap. The track-at-once feature, which was added shortly after the first CD-R drives were introduced, enables songs and data to be written at different intervals. The lead-in sectors that are written at the beginning of each session contain the location where additional data can be placed on the disc.

For audio CDs, the session can be left open in order to mix songs from different sources, but it must be closed in order to play the disc. If the disc is closed, no more songs or data can be written to the medium. See disc-at-once and UDF.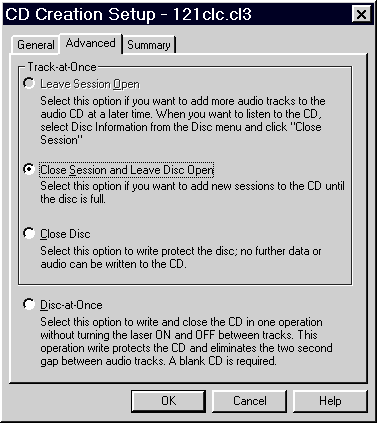 CD-R Options
This dialog box from Adaptec's EZ CD Creator software shows disc-at-once and track-at-once options before "burning" a disc. The "Leave Session Open" option at the top is ghosted in this dialog, because a data CD has been selected. Were an audio CD being recorded, it would be an available option.
Copyright © 1981-2019 by The Computer Language Company Inc. All Rights reserved. THIS DEFINITION IS FOR PERSONAL USE ONLY. All other reproduction is strictly prohibited without permission from the publisher.