tapestry
(redirected from Tapissery)
Also found in:
Dictionary
,
Thesaurus
.
tapestry,
hand-woven fabric of plain weave made without shuttle or drawboy, the design of weft threads being threaded into the warp with fingers or a bobbin. The name has been extended to cover a variety of heavy materials, such as imitation tapestries woven on Jacquard looms, tapestry carpets, and upholstery and drapery stuffs. True tapestries include various primitive textiles woven on the rudest of early looms, as well as the famous pictorial hangings of the Middle Ages.
Techniques
The techniques for high- and low-warp work (haute-lisse and basse-lisse) differ; both were used in the 14th cent. In a high-warp loom the threads are stretched vertically in front of the weaver, and the lisses or loops which raise the alternate threads to make the shed are lifted by hand; in low-warp work, the warp threads are horizontal, and the lisses are moved by means of a foot treadle. The strong warp threads of wool or linen may vary from 10 to 30 in an inch (3 to 12 per cm), but are ordinarily fewer than 20 (8 per cm). The soft, full weft threads of wool, silk, or metal entirely cover the warp, which remains apparent in the form of ribs.
In true tapestry, the front and back surfaces are alike, except that portions of the design of the same color are connected by a loose thread that is left hanging at the back. The different colors of the design, being worked in separately in blocks or patches, leave little slits between, which are afterward sewn up. All are woven with the back to the weaver, who sees nothing of his work until it is finished, unless he uses a mirror to reflect it. A cartooncartoon
[Ital., cartone=paper], either of two types of drawings: in the fine arts, a preliminary sketch for a more complete work; in journalism, a humorous or satirical drawing.
..... Click the link for more information. or painting on linen or paper, often by a noted artist, is provided for the weaver to copy. Themes for medieval hangings were drawn from ancient legends, mythology, allegory, history, religion, chivalry, and sport.
History
Antique specimens of tapestry weaving include a few surviving from Egypt of 1500 B.C. and Coptic tapestries made from the 4th to 8th cent. A.D. The Incas of Peru produced beautiful specimens, some of which date back to the pre-Columbian era. Ancient Chinese tapestries, k'o ssu, were made of light, thin silks, often interwoven with gold thread. Allusions in early Greek poetry and paintings on Greek vases show that tapestry weaving was an important household industry.
The history of tapestry weaving is continuous. In the 5th cent. A.D. and in the centuries immediately afterward, monasteries and convents were the centers of the craft. Woolen tapestries appeared early in Europe. A few fragments woven in this material in the 10th or 11th cent. are still preserved. (The so-called Bayeux tapestryBayeux tapestry.
This so-called tapestry is in fact an embroidery that chronicles the Norman Conquest of England by William the Conqueror (William I) in 1066. It is a long, narrow strip of coarse linen, 230 ft by 20 in.
..... Click the link for more information. was actually embroidered.) At Arras, early in the 14th cent., the first great French weaving was done, in wool. Soon Brussels achieved prominence and remained important through the 17th cent., until the rise of the GobelinsGobelins, Manufacture nationale des
, state-controlled tapestry manufactory in Paris. It was founded as a dye works in the mid-15th cent. by Jean Gobelin. A tapestry works started by two Flemish weavers, Marc de Comans and François de la Planche, called to France by Henri
..... Click the link for more information. works at Paris.
By the 15th cent., tapestry weaving had reached a high degree of perfection, and from this century date many great Gothic sets rich with gold thread. A fine specimen is the set of Burgundian Sacraments; a late 15th-century example of a verdure background is the Lady and the Unicorn set (Musée de Cluny). An example of the Renaissance period is the widely acclaimed set, the Acts of the Apostles, from the cartoons of Raphael. Fine weaving was done at Beauvais in the mid-17th cent. Weavers at Aubusson, France, began in the 16th cent. to make an inferior textile that was gradually improved. The baroque style dominated the 17th cent.; the rococo and classical styles appeared in the 18th cent. Fine examples were woven from the cartoons of François Boucher, who worked both for the Beauvais and the Gobelins looms.
In England much tapestry, known as Arras, was used before any was manufactured there. In the 16th cent. William Sheldon set up works in Warwickshire. An establishment in imitation of the Gobelins was opened at Mortlake in 1619 and employed Flemish weavers. In 1881, William MorrisMorris, William,
1834–96, English poet, artist, craftsman, designer, social reformer, and printer. He has long been considered one of the great Victorians and has been called the greatest English designer of the 19th cent.
..... Click the link for more information. began weaving at Merton; his friend Edward Burne-JonesBurne-Jones, Sir Edward,
1833–98. English painter and decorator, b. Birmingham. Expected to enter the Church, he went to Exeter College, Oxford, where he met William Morris, who became his lifelong friend.
..... Click the link for more information. designed some of Morris's series. In 1893 tapestry looms were set up in New York City. Some interesting 20th-century tapestries have been woven in France from cartoons by Rouault, Braque, Lurçat, Picasso, and Calder.
Important public collections in the United States that contain fine examples of tapestry weaving are those in the Metropolitan Museum (including the magnificent Hunt of the Unicorn series at the Cloisters) and in the Museum of Fine Arts, Boston.
Bibliography
See M. Jarry, World Tapestry (1969); A. Pearson, Complete Book of Tapestry Weaving (1984); T. P. Campbell, Tapestry in the Renaissance (2002).
The Columbia Electronic Encyclopedia™ Copyright © 2013, Columbia University Press. Licensed from Columbia University Press. All rights reserved.
www.cc.columbia.edu/cu/cup/
Tapestry
A large woven illustration hung as a wall decoration.
Illustrated Dictionary of Architecture Copyright © 2012, 2002, 1998 by The McGraw-Hill Companies, Inc. All rights reserved
tapestry
A fabric, worked on a warp by hand, the designs employed usually being pictorial; used for wall hangings or the like.
McGraw-Hill Dictionary of Architecture and Construction. Copyright © 2003 by McGraw-Hill Companies, Inc.
tapestry
a heavy ornamental fabric, often in the form of a picture, used for wall hangings, furnishings, etc., and made by weaving coloured threads into a fixed warp
www.adorabella.com.au/HistoryTapestry.htm
www.bayeuxtapestry.org.uk
www.metmuseum.org/explore/Unicorn/unicorn_inside.htm
Collins Discovery Encyclopedia, 1st edition © HarperCollins Publishers 2005
Tapestry
(1) A framework for writing Web-based applications in Java from the Apache Jakarta Project. See Jakarta.

(2) A holographic storage medium from InPhase Technologies, Longmont, CO, designed for archiving data and video. In 2000, InPhase was spun off from Lucent Technologies, and production began for the Tapestry optical cartridge in 2010. However, InPhase went bankrupt in 2011, and Akonia Holographics acquired its assets in 2012. Apple acquired Akonia in 2018 for its optical expertise.

A Disc That Didn't Spin Continuously
Containing a photo polymer recording layer in the middle, the single platter was divided into thousands of optical "books" roughly one cubic millimeter in size. For reading and writing, the disc was rotated to the appropriate book, which held 330 "binary holograms" each containing 1.4 million bits in three dimensions. Each hologram was recorded with one flash of a blue laser, and the amazing thing about the technology is that every digital hologram pattern fully occupied the same physical space as the other holograms in the book. For more details, see holographic storage.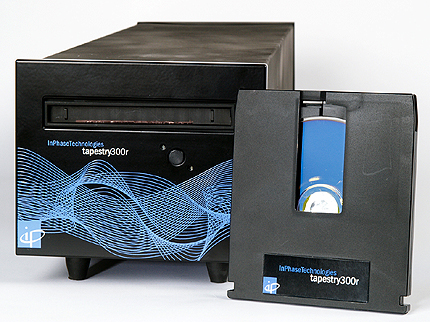 Tapestry Drive and Media
In 2010, these 300GB write-once drives were the only commercial holographic storage product. Tapestry's roadmap called for 1.6TB drives, as well as rewritable discs. (Images courtesy of InPhase Technologies.)
Copyright © 1981-2019 by The Computer Language Company Inc. All Rights reserved. THIS DEFINITION IS FOR PERSONAL USE ONLY. All other reproduction is strictly prohibited without permission from the publisher.