Tautomerism
Also found in:
Dictionary
,
Medical
,
Wikipedia
.
tautomerism
[

tȯ′täm·ə'riz·əm

]

(chemistry)

The reversible interconversion of structural isomers of organic chemical compounds; such interconversions usually involve transfer of a proton.

McGraw-Hill Dictionary of Scientific & Technical Terms, 6E, Copyright © 2003 by The McGraw-Hill Companies, Inc.
The following article is from The Great Soviet Encyclopedia (1979). It might be outdated or ideologically biased.
Tautomerism
rapid, reversible structural isomerization. At equilibrium, substances that can tautomerize are mixtures of two or more interconverting isomers, or tautomers. The most common type of tautomerism is triadic prototropy, which involves the migration of a proton between the end atoms of a triad, or system of three atoms; two of the three atoms are linked by a double bond, which is shifted when the migration occurs. Examples of triadic prototropy are given below. The types shown are the keto-enol (a), imino-enamino (b), and amido (c), including lactim-lac-tam (d), triple-carbon (e), and ring-chain (f) tautomerism: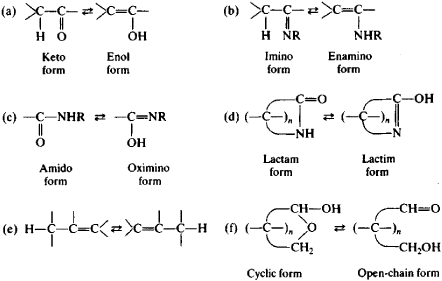 Dyadic prototropy, that is, tautomerism where proton migration occurs in a system of two atoms, describes the isomerization of hydrocyanic acid and the acids and thio acids of phosphorus. This type of tautomerism is associated with a change in the valence of one of the dyad atoms:

Anionotropy, or tautomerism involving migration of a negatively charged atom or group of atoms, is observed in many allyl halides and allyl alcohols and in their respective derivatives:

Tautomerism can also be encountered in valence isomers—that is, isomers that interconvert through a redistribution of valences between the atoms of the molecule's skeleton rather than through a migration of substituents. An example is provided by cyclooctatriene, which exists in equilibrium with a bicyclic isomer: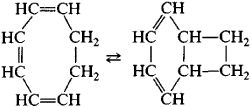 Individual tautomers can sometimes be isolated. In most cases (HCN and others), however, the presence of tautomers is established spectrally.
Many substances form two series of derivatives corresponding to two possible tautomeric forms. As a rule, however, this phenomenon is explained not by tautomerism but by duality in the reactivity (seeRESONANCE). Tautomerism presupposes the existence of tautomers; the existence must be proved in each case.
REFERENCE
Ingold, C. Teoreticheskie osnovy organicheskoi khimii. Moscow, 1973. Page 658. (Translated from English.)
The Great Soviet Encyclopedia, 3rd Edition (1970-1979). © 2010 The Gale Group, Inc. All rights reserved.