Telegraph Network
The following article is from The Great Soviet Encyclopedia (1979). It might be outdated or ideologically biased.
Telegraph Network
the combination of telegraph enterprises and connecting communications channels within a country. The telegraph networks of different countries unite to form an international telegraph network.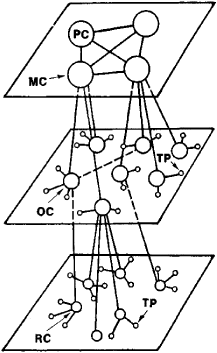 In the USSR the telegraph network includes the general public network, which takes in enterprises of the Ministry of Communications; the teletypewriter exchange service, the subscribers to which are state enterprises and institutions; a leased-link network; and the facsimile service network. Telegraph networks are designed for the transmission of telegrams from state enterprises, institutions, and private individuals, for the teletypewriter exchange, and for the transmission of statistical and other information and various types of digital data between enterprises. Telegraph channels and terminal equipment may be leased to organizations, enterprises, ministries, or departments.
A telegraph network is designed according to a composite principle, combining direct, tandem connections between higher centers and the branch connection of lower centers (Figure 1). This system ensures efficient use of channels, reliability and flexibility of communications, and the possibility of using bypass routes for connecting one center with another. The USSR is divided into 16 zones (1976), each with its own major center. Oblast and raion centers in a given zone are connected to other telegraph networks through the major center.
Low-level intra-oblast channels, which connect oblast centers with raion centers, and telegraph trunks usually use frequency-division multiplexing; intra-oblast channels may also use overhead lines. Paired city telephone cables and channels with frequency-division and time-frequency-division multiplexing are used as local terminal lines, connecting terminal points with the nearest telegraph centers. A telegraph network using pulse-code modulation is also being developed.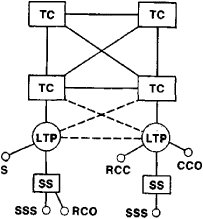 The existing telegraph network uses both fixed, or permanent, channels and switching channels. Permanent channels are primarily supplied to leaseholders and sometimes to communications agencies of the general public network; they are also used for the facsimile service. The teletypewriter exchange service and a large part of the general public network use switching channels, which ensure considerably greater possibilities for service automation, economy of network design, and a wide range of customer services. Channel switching is done at telegraph stations. Operational control of the trunk network, including the establishment of bypass routes and the redistribution of traffic flow, is carried out by dispatchers.
A new, reorganized telegraph network (Figure 2, page 467) has been proposed within the framework of the USSR's integrated automatic communications system. It provides for tandem centers, which automatically redistribute the traffic load via bypass routes when a line is busy or out of order, thereby increasing the reliability and quality of network operation.
REFERENCES
Telegrafnye pravila, parts 1–2. Moscow, 1969–70.
Gubin, N. M., and B. V. Bronner. Organizatsiia i planirovanie telegrafnoi sviazi. Moscow, 1971.
The Great Soviet Encyclopedia, 3rd Edition (1970-1979). © 2010 The Gale Group, Inc. All rights reserved.