Telephone Switchboard
Also found in:
Wikipedia
.
telephone switchboard
[

′tel·ə'fōn ′swich'bȯrd

]

(communications)

McGraw-Hill Dictionary of Scientific & Technical Terms, 6E, Copyright © 2003 by The McGraw-Hill Companies, Inc.
The following article is from The Great Soviet Encyclopedia (1979). It might be outdated or ideologically biased.
Telephone Switchboard
an instrument for setting up connections manually between subscriber loops, connecting trunks, and intercity trunks. Telephone switchboards are installed in private, urban, rural, and long-distance central offices.
A switchboard comprises subscribers' line equipment, a number of cord pairs, and equipment used by the operator (Figure 1). The number of subscribers' line sets depends on the number of lines connected to the switchboard, while the number of cord pairs depends on the average number of telephone conversations allowed at any one time. Switchboards usually have 100–140 subscribers' line sets and 15–20 cords. The operator's equipment comprises instruments that permit the operator to talk with the subscribers, including headphones and granular-carbon transmitters, and a source of current for sending ringing signals over a line; by means of answering and ringing keys, these instruments can be connected to any of the cords.
A calling signal coming from a telephone set actuates an electromagnetic ringing relay installed in the DC circuit of the subscribers' lines; the relay in turn switches on the lamp for this line. The telephone operator then inserts a plug from any free cord into the jack, thereby switching off the lamp. To receive the order for establishing a connection, the operator switches the key to the answering position, thus closing contacts 1. After receiving the order, the operator inserts the ringing plug into the jack of the desired line if this line is free and, by switching the key to the ringing position, closes contacts 2 and sends a ringing signal over the line. During the conversation between the subscribers, the transmitters in the two sets receive power from the common battery through the electromagnetic relays of the power-supply bridge. At this point, the key is in the neutral position, and the control lamps at the answering and ringing ends of the cord are not lighted. Upon completion of the conversation, the control relays in the power-supply bridge receive disconnect signals, the lamps are lighted, and the operator removes the plugs from the jacks.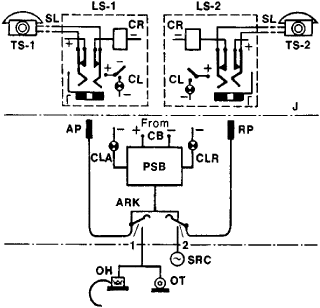 In addition to the type of switchboard described above, there are also cordless switchboards, in which the jacks and cords are replaced by keys.
REFERENCES
Avtomaticheskaia kommutatsiia i telefoniia, part 1. Moscow, 1968.
Avtomaticheskaia mezhdugorodnaia i sel'skaia telefonnaia sviaz'. Moscow, 1976.

Z. S. KOKHANOVA and O. I. PANKRATOVA
The Great Soviet Encyclopedia, 3rd Edition (1970-1979). © 2010 The Gale Group, Inc. All rights reserved.