Tenon
Also found in:
Dictionary
,
Thesaurus
,
Medical
,
Wikipedia
.
tenon
[

′ten·ən

]

(engineering)

A tonguelike projection from the end of a framing member which is made to fit into a mortise.
Tenon
The projecting end of a piece of wood or other material, reduced in cross section so that it may be inserted into a corresponding mortise in another piece to form a secure joint.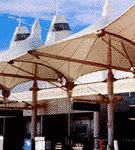 Tenon
(in Russian, ship), a projection on the end or lateral surface of a part, designed to be inserted into a recess or groove of corresponding shape and dimensions in another part. It can be used to effect a permanent or temporary joining of the parts. A tenon may be in one piece with an article, or it may be a separate insert (as a dowel). Joints made by a mortise and tenon are most often used in the manufacture of wooden structural elements (windows, doors, and the like), furniture, crates, and casting patterns. In machine building, end and face journals (pivots) are analogous to tenons; they usually have a cylindrical, conical, or spherical shape.
tenon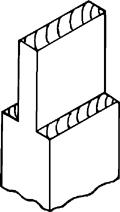 The projecting end of a piece of wood, or other material, which is reduced in cross section,