Terminal pedestal
Terminal pedestal
A tapered pedestal for a bust, with both objects forming a terminal figure.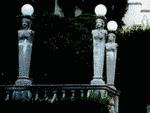 Illustrated Dictionary of Architecture Copyright © 2012, 2002, 1998 by The McGraw-Hill Companies, Inc. All rights reserved
terminal pedestal
A pedestal prepared for a bust, so that the two together comprise a
terminal figure
.
McGraw-Hill Dictionary of Architecture and Construction. Copyright © 2003 by McGraw-Hill Companies, Inc.