Termite shield
termite shield
[

′tər'mīt 'shēld

]

(building construction)

A strip of metal, usually galvanized iron, bent down at the edges and placed between the foundation of a house and a timber floor, around pipes, and other places where termites can pass.
Termite shield
A protective shield made of noncorroding metal, placed in or on a foundation mass of masonry, or around pipes entering a building to prevent passage of termites into the building.
termite shield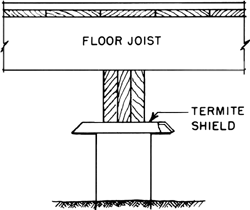 A shield of noncorroding metal or inorganic material, used as protection against the infiltration of termites in a building; so placed as to prevent their passage, usually as a projecting shield on a masonry foundation or pier (or under a wood sill or beam which it supports), or around pipes which enter the building.